History Group
'Show and Tell' on Thursday 6th July
On Thursday 6th July Launcells History Group held a 'Show and Tell' evening at The New Inn, Kilkhampton.
It was run as a social evening open to anyone who wanted to come along to show us and talk about things they may have found perhaps out on a walk, or in the garden or even something they've discovered about a member of their family.
We had an array of objects from pieces of pottery and broken Codd Bottles, a lemonade glass bottle, a booklet from a church that someone had visited for the first time and even some medals from a lady who worked at Bletchley Park during the war. I also had a parishioner contact me with photos of objects found in a local ploughed field. One object proved to be of particular interest but that deserves it's own article in future.
Whilst we were talking, there were 2 tables of holiday makers sat near us enjoying their meals. One of the groups as they left, commented on how they enjoyed listening to our conversations and apologised for eavesdropping.
The other table, a couple from Market Harborough also commented as they were leaving that they really enjoyed listening to us. We explained we were Launcells History Group and they said they used to stay at a B&B in Launcells about 40 years ago with a couple called Eric and Irene. I asked them if it was a big white house on the top of a hill and very windy at times? They replied yes. I said it was Woodhall at the top of Leigh Hills in Hersham. I can just about remember Eric and Irene Heywood (I think that was their last name) who owned Woodhall. They also knew a few other parishioners from over the years, so we had a lovely chat with them. We had an enjoyable few hours sharing stories of our finds and chatting to holiday makers.
With autumn approaching we will hopefully organise some more events soon. Follow us on Facebook - Launcells History Group and watch out for
details of future events in here as well.
Sharon Jenkins
Launcells History Group
---
On a walk recently with Suzanne Littlejohns we found lots of sherds and this got us thinking. We were talking about organising a History group meeting and we thought about things that people have found, whether it's something they've found in the garden, out on a walk or even something such as a book in a shop. So, we are holding a History Group social where anyone can join us, share their finds, if you have an unknown item maybe we can solve its mystery.
Launcells History Group "Show and Tell"
Come along for a social evening on Thursday 6th July
At The New Inn, Kilkhampton 7.30pm
Bring your finds to show and tell us all about them. Eg. Pottery Sherds, Glass Shards, Unusual finds.
Or just come along to chat and see what others have found.
Find us on Facebook : Launcells History Group
Sharon Jenkins
---
Launcells History Group news by Suzanne Littlejohns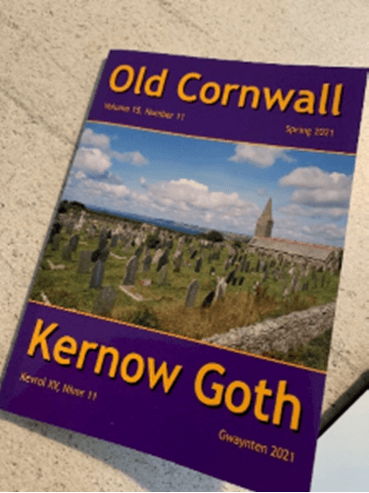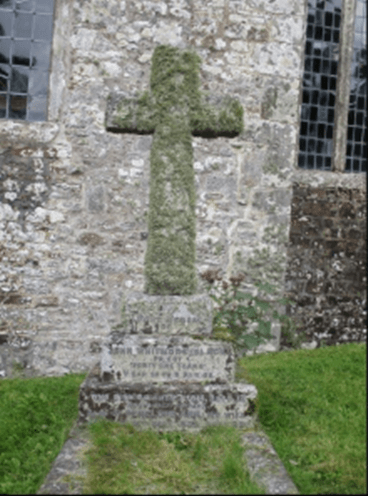 The group met in the Parish Hall on 5th January, when some business regarding the new Treasurer and signatory's role was concluded as well as some discussion around funds and how the group will manage outgoings and come up with ideas for future fundraising. We also discussed the archives and archiving progress as well as the need to review the group's constitution. All matters raised and discussed achieved consensus among those present and dates for future meetings were agreed.
We accepted into the archive, some donations kindly made by Helen Bartrop-Hocking last year. This comprises 2 books and 2 periodicals published by the Old Cornwall Society. One of the Old Cornwall periodicals, dating from Spring 2021, contains an interesting and detailed article about a somewhat eccentric sounding Parson of Launcells. Parson Black (Vicar from 1873-1914). The article includes detail about parish life of the period and some of the challenges Parson Black seems to have had fitting in with the local community. He seems to have persevered for over 40 years though, and passed away while still the incumbent vicar in Oct 1914. He is buried in Launcells Churchyard in quite a prominent spot and memorial next to the church.
The History group welcomes new members and those interested in finding out more about the group.
The upcoming meetings are at:
1.30pm on Saturday 18th Feb at the Red Post Inn
7.30 pm on Thursday 16th March at the Parish Hall
Further dates to follow.
Contact for queries is Secretary Dee Wynne-Morter 07974 627414 d.wynnemorter@sky.com
Launcells History Group - update
The group met at the Red Post Inn on 12th November to formalise the appointment of our new treasurer, Will Shingler. We also confirmed Dee Wynne-Morter as an additional account signatory. This will now allow us to organise our finances and move forward with some planned events in the parish in 2023. We will be taking advantage of the Bude & Stratton Post's new 'Events Page' to advertise events where we think they will have wider appeal.
We came up with a list of events we want to organise next year, including a spring wild flower and history walk around the churchyard. We have a few parish history topics to delve into such as the non-conformist (Methodist) chapels and capturing more stories from Launcells history from the last 80 years or so. We also want to try and have an historically themed film night at the Parish Hall next year.
We have 2 meetings booked for next year with more dates to follow:
January - Parish Hall at 7 for 7.30pm on Thursday 5th January
February - Red Post Inn at 1pm Saturday 18th February
If you are interested in finding out more about the group or joining us contact Dee Wynne-Morter on 01288 381887 or d.wynnemorter@sky.com
Suzanne Littlejohns (History Group Chair)
A talk on the history of St Swithin's church by Lilian Quinn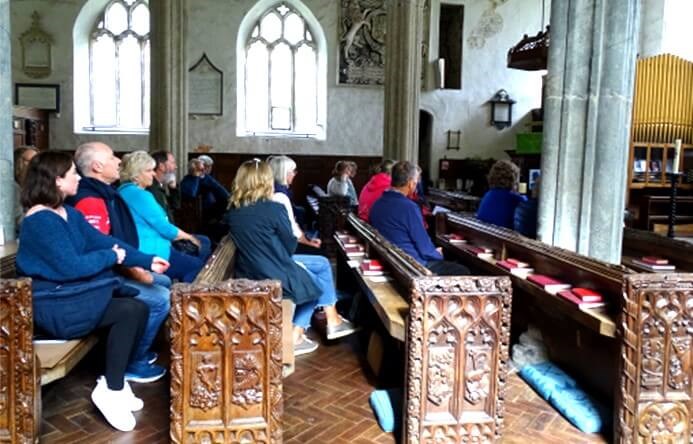 Saturday September 24th saw the History Group, plus a few guests, meeting at St Swithin's for Lilian Quinn's talk on the church and its history as well role in stories about parish events and folk.
Lilian entitled her talk 'History starts but never ends' and brought to us stories from the archives of Hartland Abbey, to which there are early links, right through to the 20th and 21st centuries with the information that the long abandoned crypt may have been filled with sand from Bude beaches several decades ago, when there was a risk of its collapse.
Lilian has a huge wealth of interesting facts about our beautiful church and really brought her talk to life by adding interesting stories and even the occasional mystery.
We also found out about many of the architectural and internal features such as the very ancient pew end carvings and font as well as the tantalising half uncovered wall paintings and letter to the people of Cornwall from an earlier King Charles.
At the end of the talk Lilian walked us around some of her favourite features including the beautiful Barnstaple tiles in the chancel, belfry screen and other fine carved wooden panels.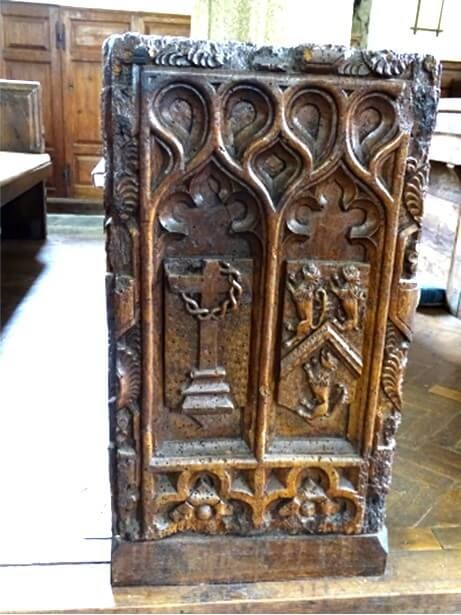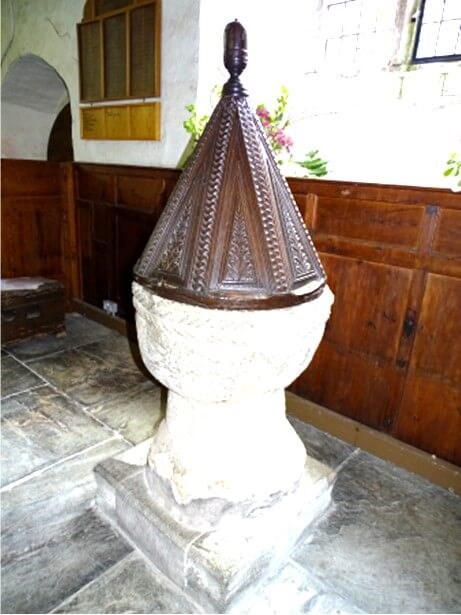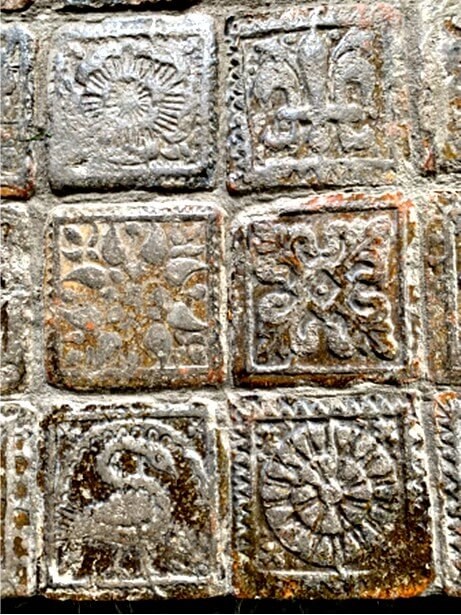 Donations were made to the church by the attendees and a number of copies of the new edition of the 'History of St Swithin's Church' were snapped up as we chatted and enjoyed coffee and biscuits. Further copies of this new edition are available from the church.
A huge thank you to Lilian for her wonderful talk which she had prepared so meticulously to share with us all. With her permission we will be typing up Lilian's comprehensive notes for the parish archives. A big thank you also goes to the group members, Dee and Jan Hunt, who organised the refreshments.
Watch this space for information on further History Group meetings and events.
Suzanne Littlejohns, Chair, Launcells History Group
---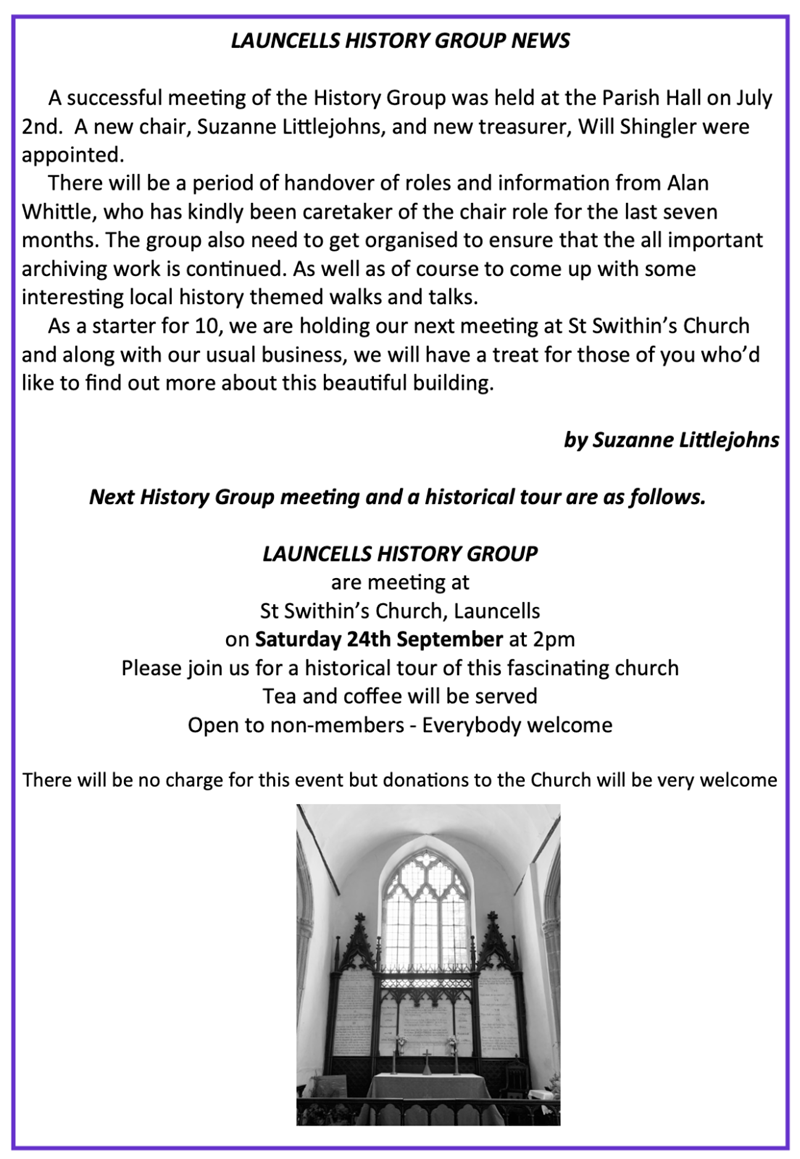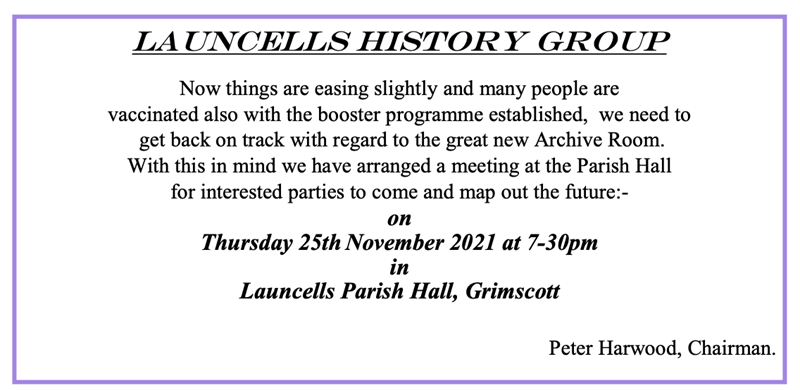 ---
A story that was recently shared in the parish magazine.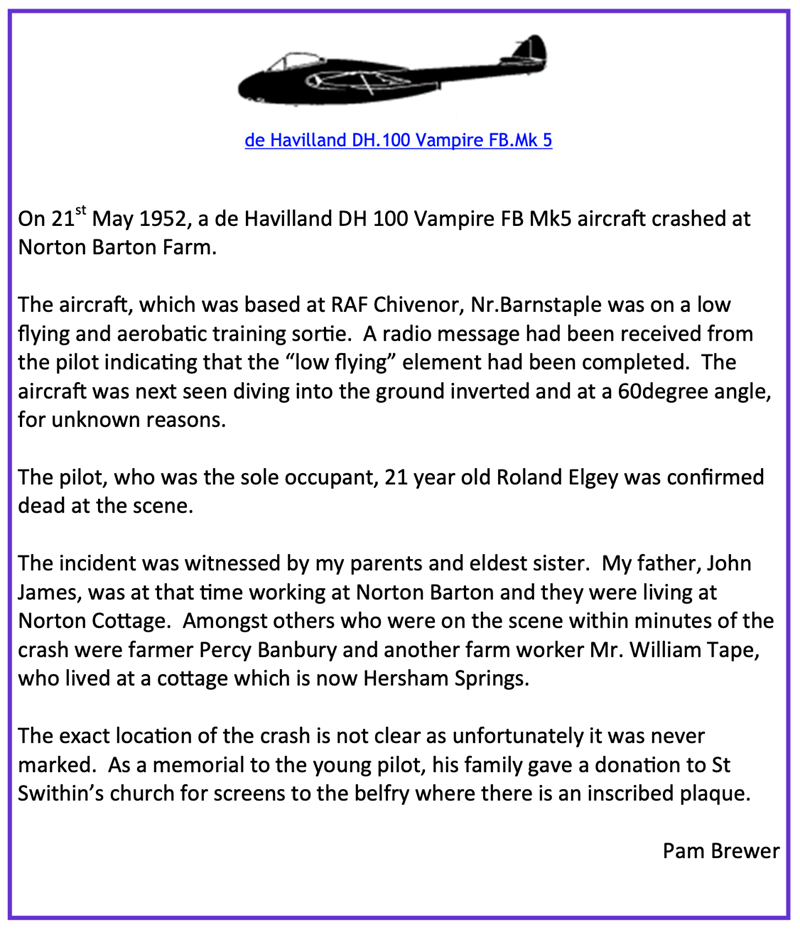 Nigel & Hugh Reid have recently completed their Chamond article on the memorial that can be found at St. Swithins Church. Please click here to read the full article.