St Swithin's Church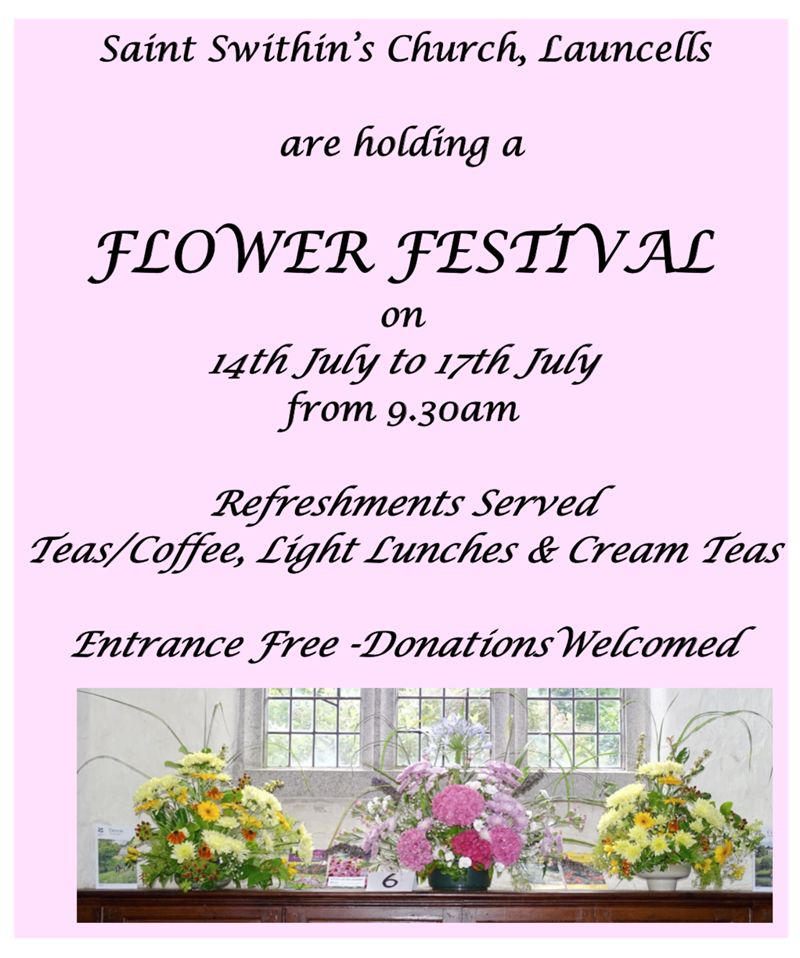 July 2022: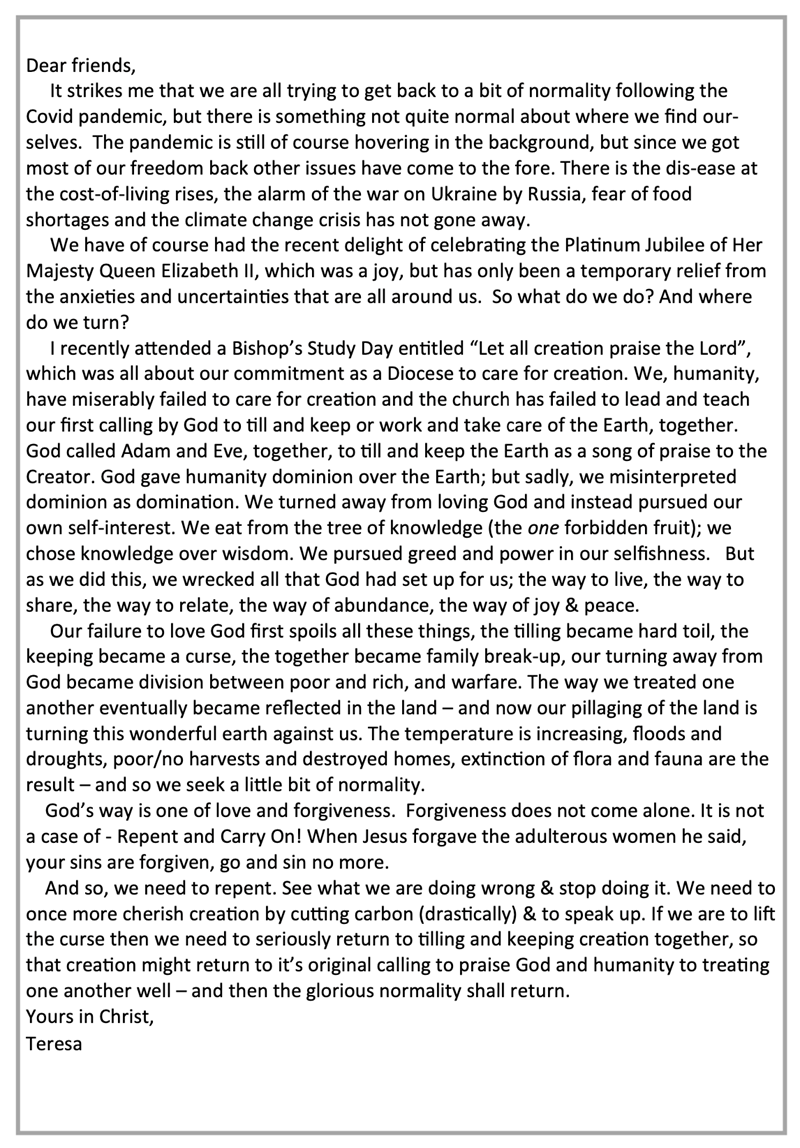 March 2022: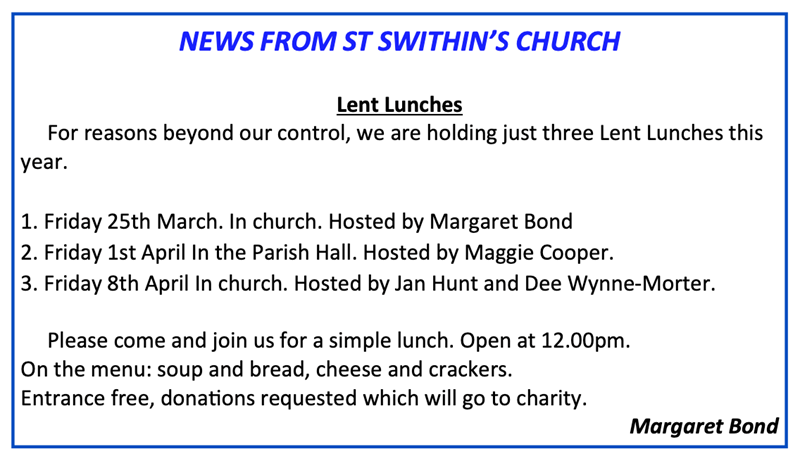 January 2022: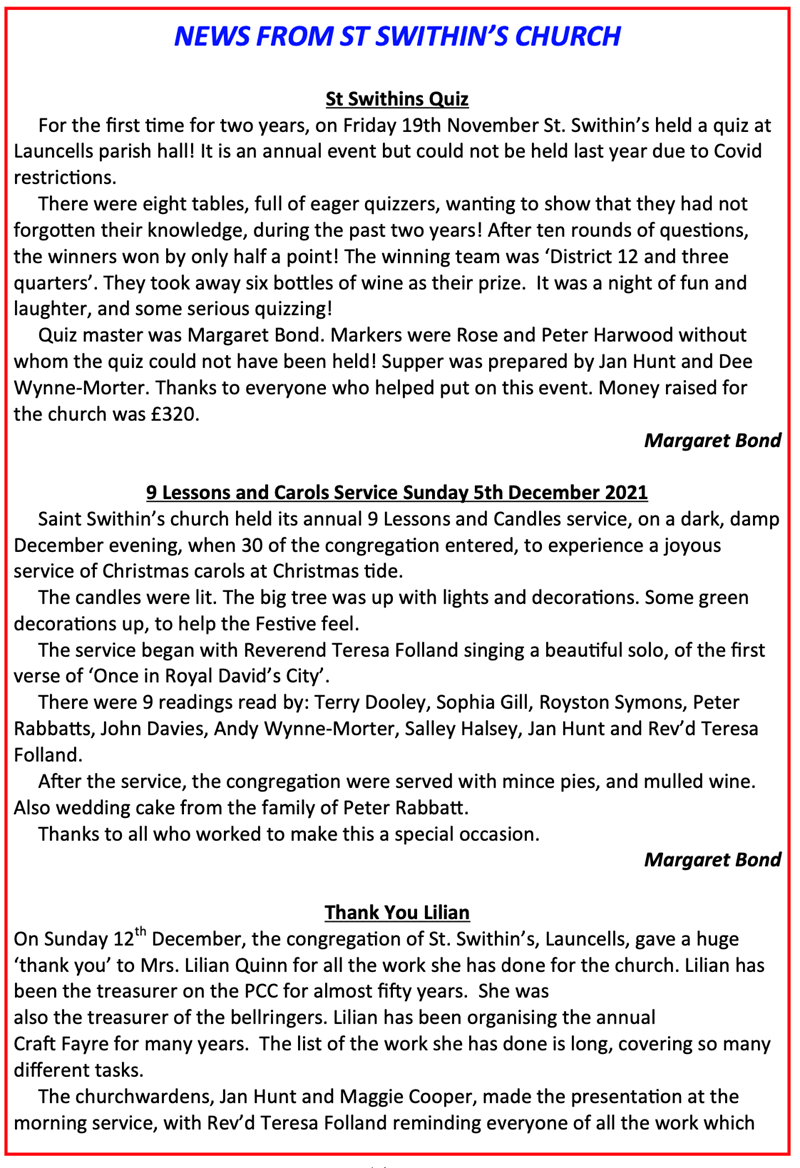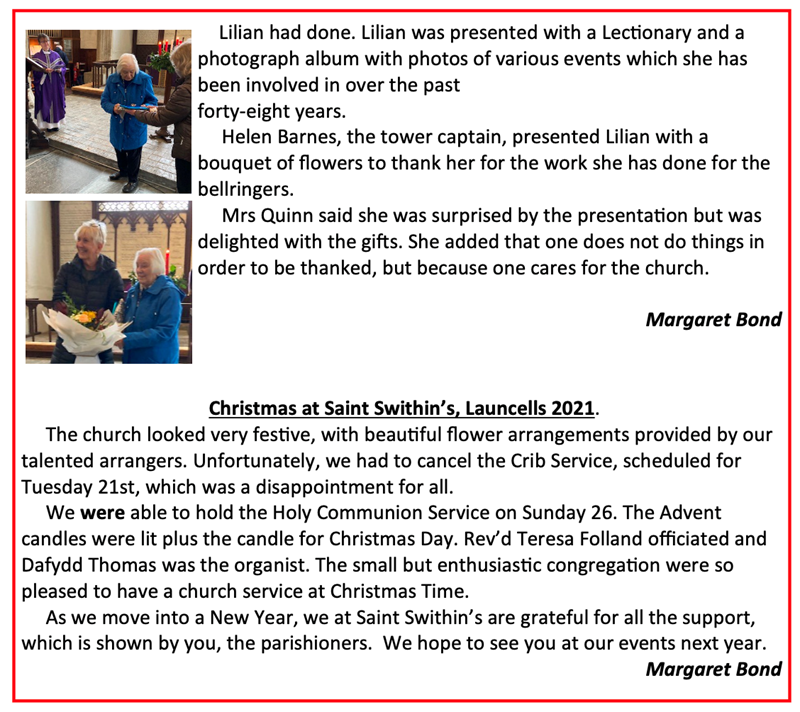 December 2021:
Dear friends,
Golly, it's the 'C' word!
Christmas is coming, very soon to a place near you!
Christmas just has to be one of the very best times in the year. So much celebration; friends & family, food & festivities, and we want it to be so much better than the limited & muted merriments of 2020.
The excitement & anticipation, preparation & plans are all part of it, and at St Swithin's we will be doing just that throughout December as we move through Advent.
We have already planned our services to celebrate the birth of Jesus. We have the four Sundays before Christmas when the Advent Wreath will be lit; on the 5th December we have the 9 Lessons and Carols service at 7pm, with festive refreshments afterwards, then on Tuesday 21st December, we have the much-loved Crib service at 4pm. We will be hosting the Holy Communion service for the Benefice on Boxing Day, when we invite you to come and meet with the new born baby Jesus in the stable.
Preparations will be made as the church is decorated, the Christmas tree arrives and the Advent Wreath is prepared. And the church remains open for you to come in and spend a while in God's presence as the busy world continues around you. It's all part of the Light of the world dispelling the darkness all around us.
The Sunday services will help us anticipate as we consider the patriarchs of our faith (Abraham, Moses & the like), then the prophets (Isaiah et al who foresaw & proclaimed the coming of the Messiah), on the third week we are getting closer to the birth of Christ and think about John the Baptist who was born six months before Jesus and came with the specific message to get ready, because the coming King was very near and finally we remember the angel Gabriel's visit to the Virgin Mary, telling her she was going to give birth to the Christ-child.
Finally we have the excitement of the birth of Jesus on Christmas day; God with us, Immanuel! And what an amazing thing to have happened. God, himself, in the form of his Son, dwelling amongst us, totally accessible, totally with us, totally understanding what it is to be human, totally loving us, totally meeting us where we are, totally meeting all our needs, totally answering all our prayers; God with us.
I don't know about you, but I can't wait!
Wishing you the blessing of peace, joy, hope & love
this Advent and Christmas season.
Reverend Teresa
: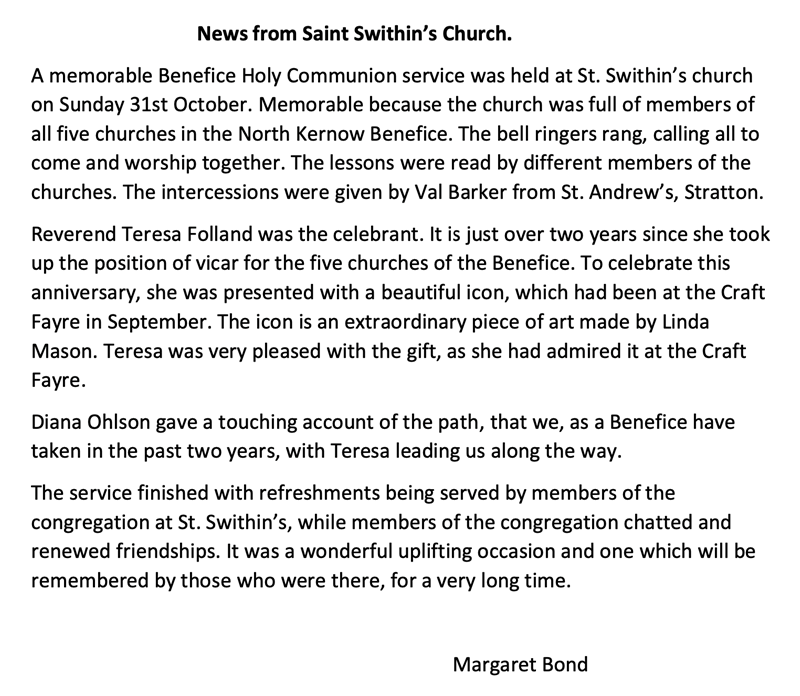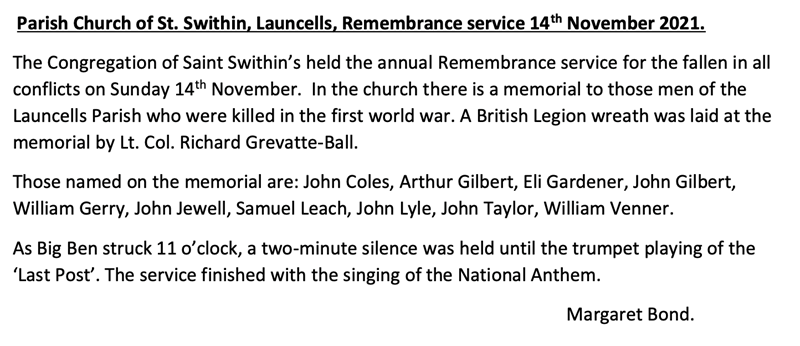 November 2021: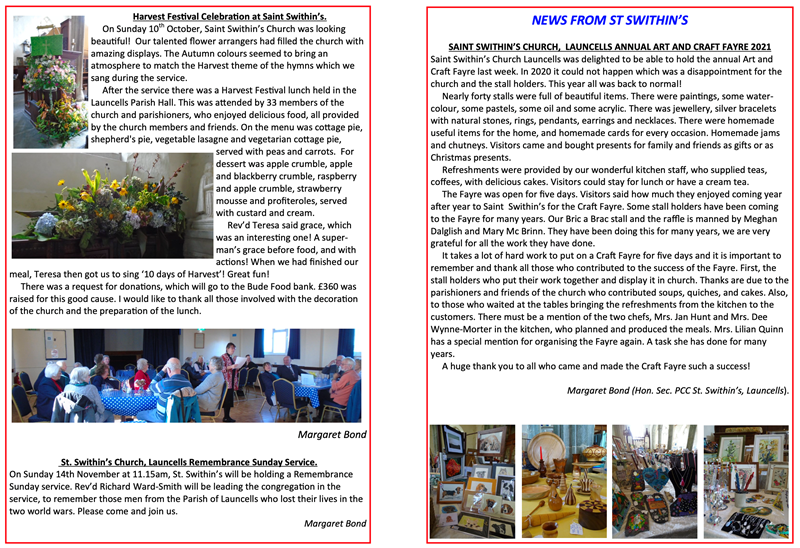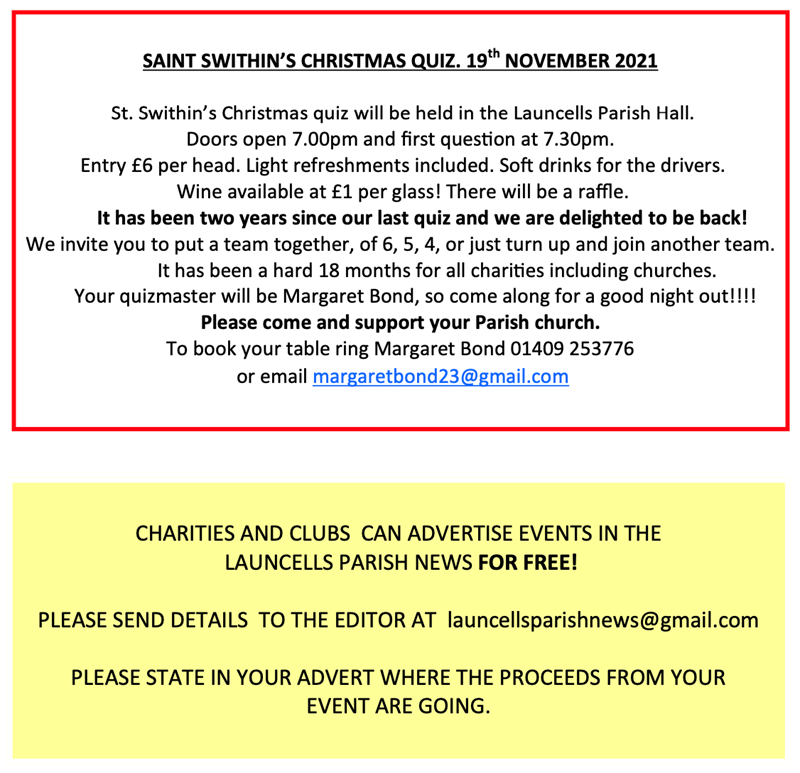 September 2021: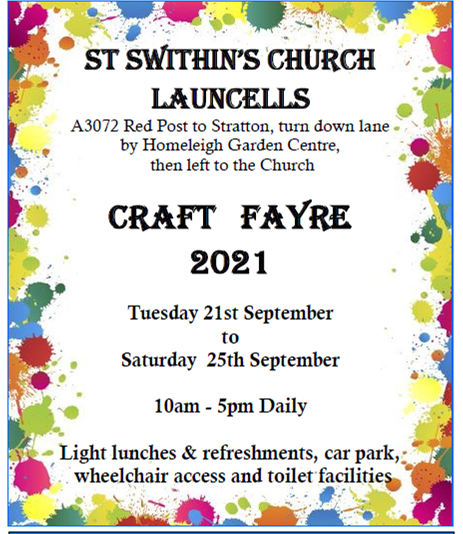 August 2021: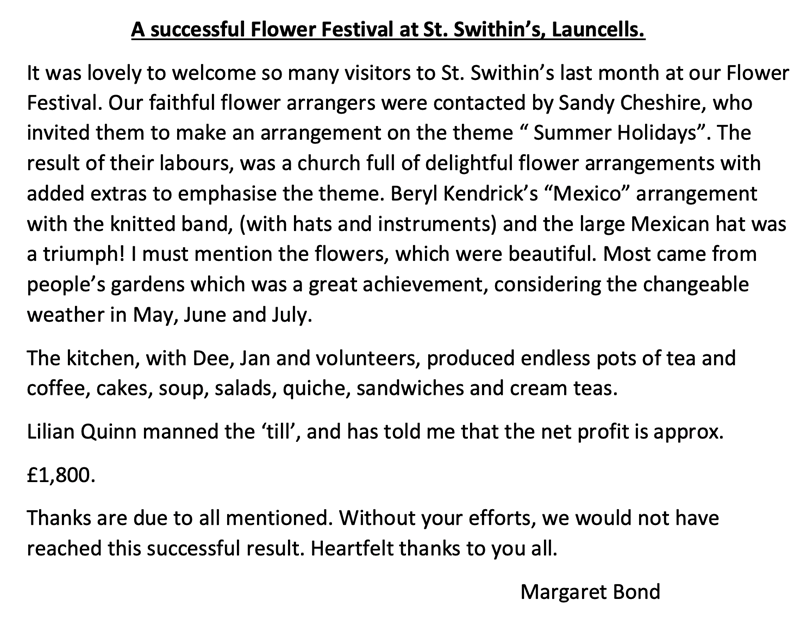 July 2021:
News from St. Swithin's, Launcells.
Stop Press! Stop Press! Stop Press! Stop Press! Stop Press! Stop Press!
Due to the latest news from the government, we have had to postpone the events planned for the Flower Festival and the Celebration weekend.
We are going to hold the Flower Festival from Thursday 22nd July to Sunday 25th July.
This will include our Celebration weekend on Saturday 24th and 25th July.
We are going to hold the same events that were organised originally. This will include free afternoon tea being served to you on Sat. 24th and Sun. 25th July.
Cut out this ticket and bring with you and you will have a free afternoon tea! (you will need the ticket from a printed copy of the magazine)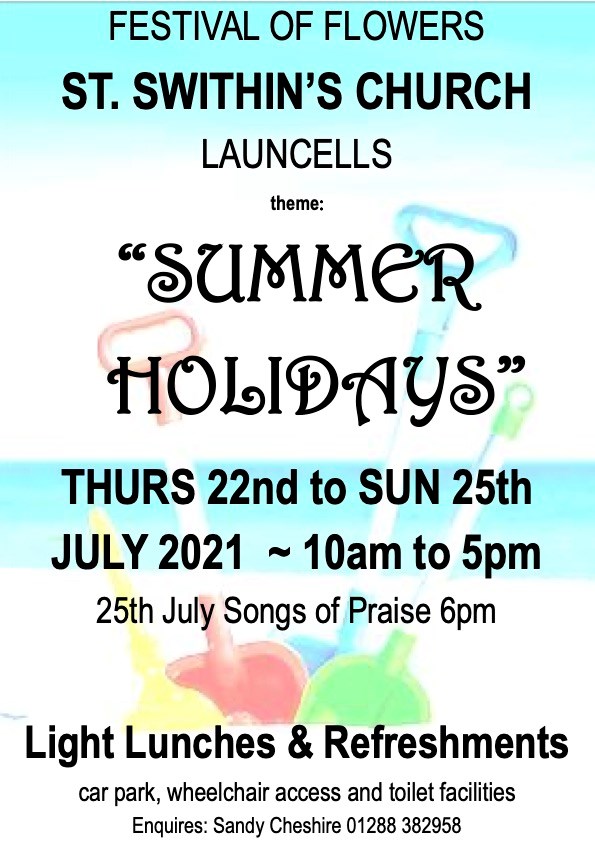 June 2021: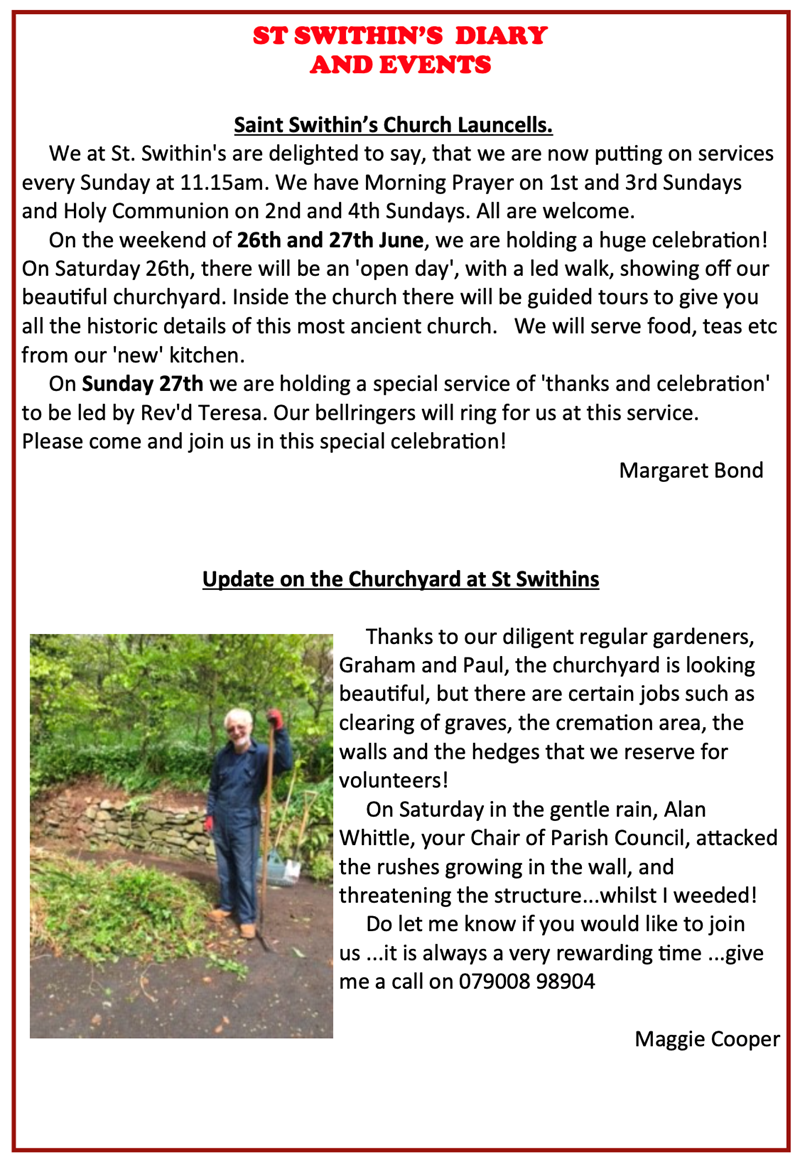 May 2021:
News from Saint Swithin's, Launcells.
Advance Notice of a Celebration Open Weekend at Saint Swithin's Church. This will be an event to celebrate the reopening of our church.
We will welcome all to come to YOUR church on Saturday 26th June with graveyard tours and history tours inside the church. Sandwiches, tea, coffee, and cakes, will be served. This followed on Sunday 27th June with a celebration Service led by our vicar Rev'd Teresa Folland. More info. to follow.
Margaret Bond
St Swithin's Churchyard
….Is looking more beautiful than ever in its Spring colours!
Do come down to see it…the Cherry blossom is still out, and I spotted 14 different wild flowers
The other day, while walking along the paths.
Please let me know if you see more!
-----
On 8th May at 10am, I am holding a working party (distanced of course), with no chatting unless 2metres apart.
All are welcome!
I will be there for 2 hrs - but do just call in for a chat or work for an hour or two whatever you wish, we will be very happy to see you!
The main jobs are clearing the tombstones and graves and weeding the left hand cremation areas.
Please bring your own tools, kneeler, bucket etc
Maggie Cooper
079008 98904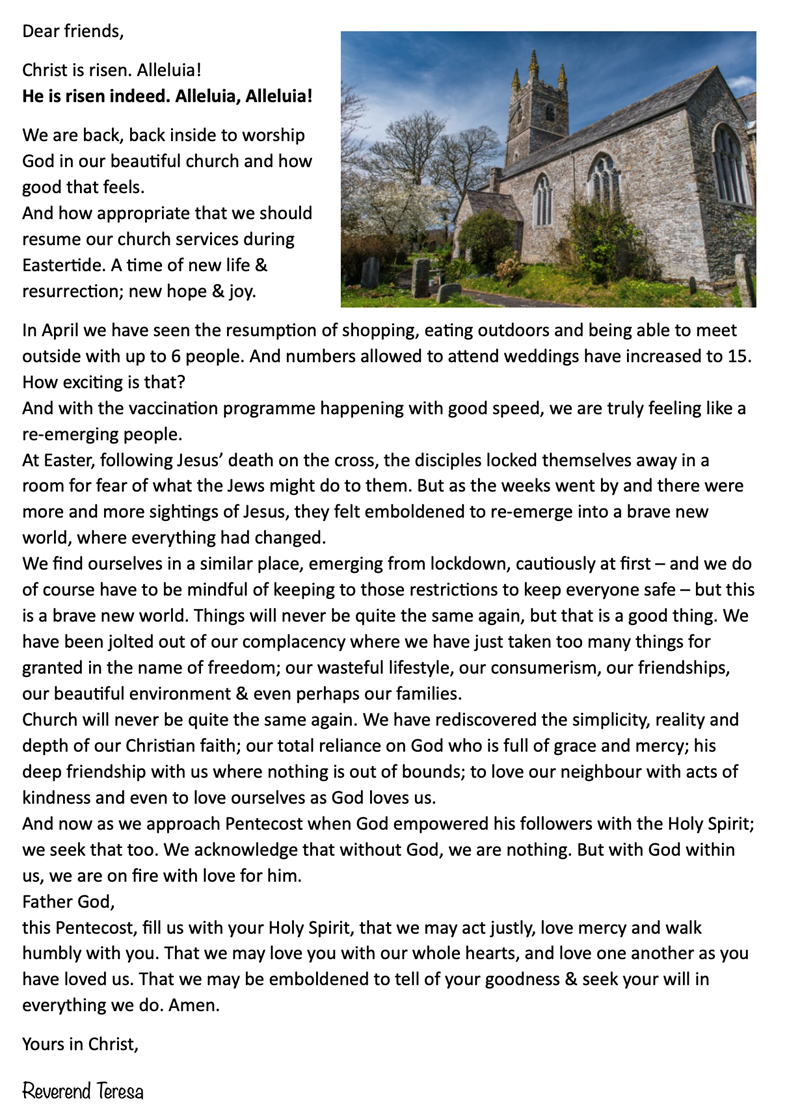 April 2021: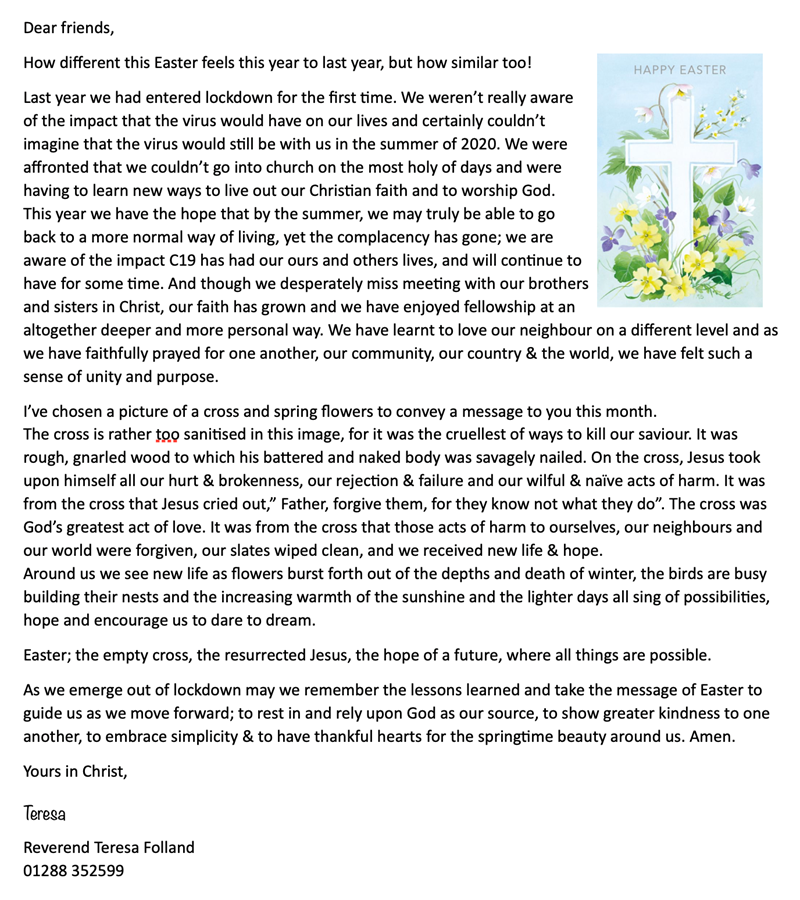 February 2021: