St Swithin's Church
Craft Fayre photo missing name
I have a heartfelt apology to make to my dear friend Rose Harwood!!
In the report on our Craft Fayre, I included a photo of 'the team'! I gave the names of those in the photo. However, I left Rose's name off the list of those in the photo! How I came to do that I have no idea, this considering she was the driving force in the kitchen! So sorry Rose and it will never happen again!
Margaret
---
St. Swithin's Church "Quiz"

Quizmaster is Chris Nichols
Friday 10th November 2023 — 7pm for 7.30pm at Launcells Parish Hall
Light refreshments With Wine, and a raffle
1st Prize and Booby prizes!
Book a table or just come along and have some fun
Enquiries: Margaret Bond 01409 253776
Craft Fayre
The annual Craft Fayre was held at Saint Swithin's church, Launcells from 14th to 16th September. There was a total of 32 stalls. There was a delightful display from artists, with gifts, cards, paintings, wood turning, books, knitted and crochet items. There were three new stall holders this year which was lovely to see.
Delicious food was served from our kitchen, some of which had been cooked by church members and friends of the church. The chef and her assistants worked hard to serve soups, quiches, ham and egg salads.
Lansdowne Bakery kindly donated some pasties and sausage rolls. Cakes and cream teas too were available.
The bric a brac stall was a success, as was the raffle with local people winning £50, £35, and £15.
For the first time a card reader was used to help purchasers to pay quickly and easily. Both visitors and cashier were pleased with how it worked.
The photograph is of the staff and helpers who worked so hard for the three days.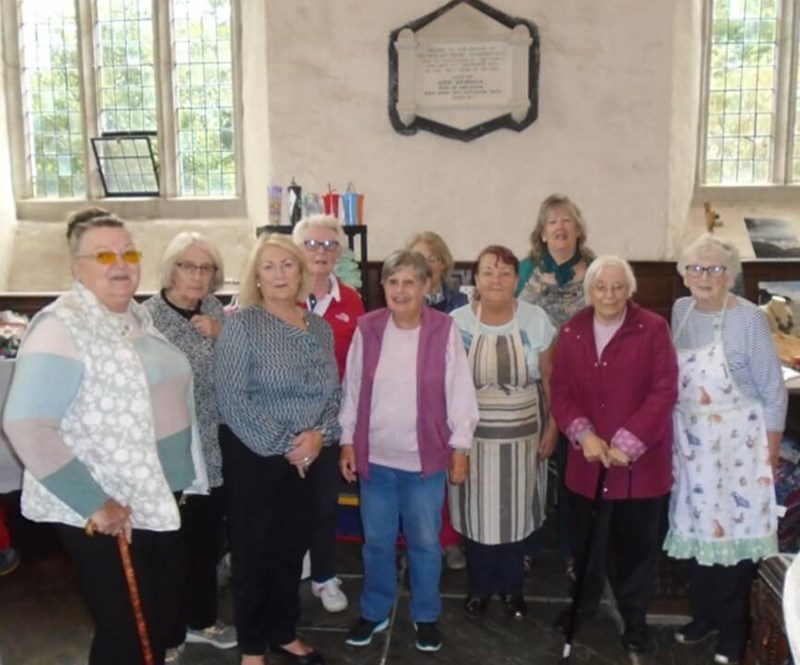 In the photograph from left to right: Mary McBrinn, Meghan Dalglish, Geraldine Kenyon, Margaret Bond, Barbara Atkins, Jan Hunt, Rose Harwood, Jill Bolton, Lilian Quinn, Susan Nunn.
Margaret Bond
---
Lilian's 90th Birthday Celebration.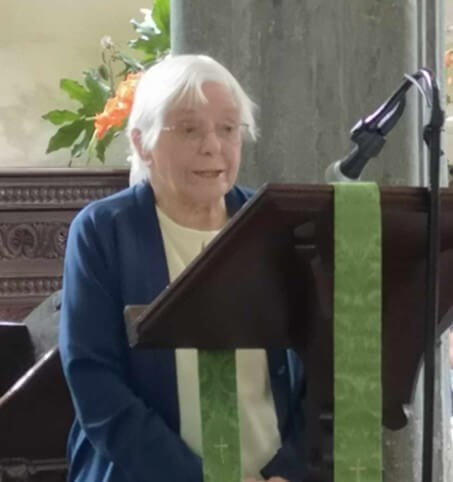 About three months ago Lilian Quinn told a few of her friends that she had wanted to celebrate her 90th birthday in a way that would also generate donations for her beloved church, Saint Swithin's Launcells.
She said that she wanted to give a party for her family and her many friends and to hold the party in the church. No presents she said but donations to the church.
So, the plan was made. A cream tea, with tables set around the church, but plenty of room for people to sit in the pews. Dafydd to play the organ to give background music. Wine or fizzy elderflower for the birthday toast.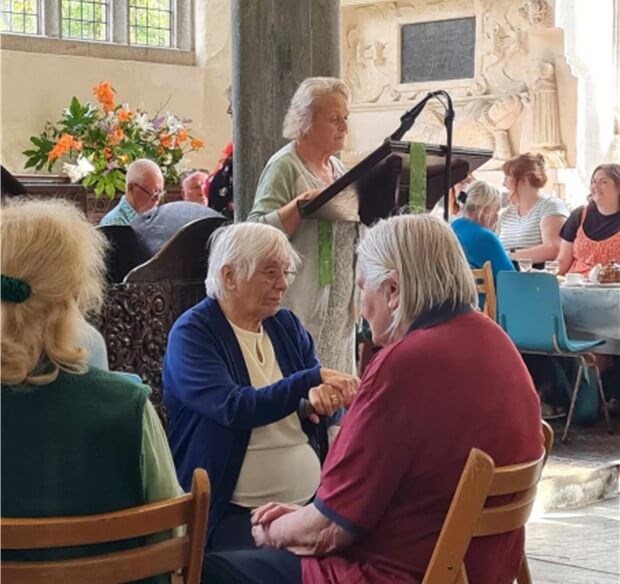 On the afternoon of 26th August some 80 people came to St. Swithin's to congratulate Lilian on reaching her 90th birthday. Family from Jersey came to see her and join the celebrations, which was such a delight for Lilian. Her family, who live more locally, were there too of course. Friends from the church, from the parish, and friends for many years came to wish her Happy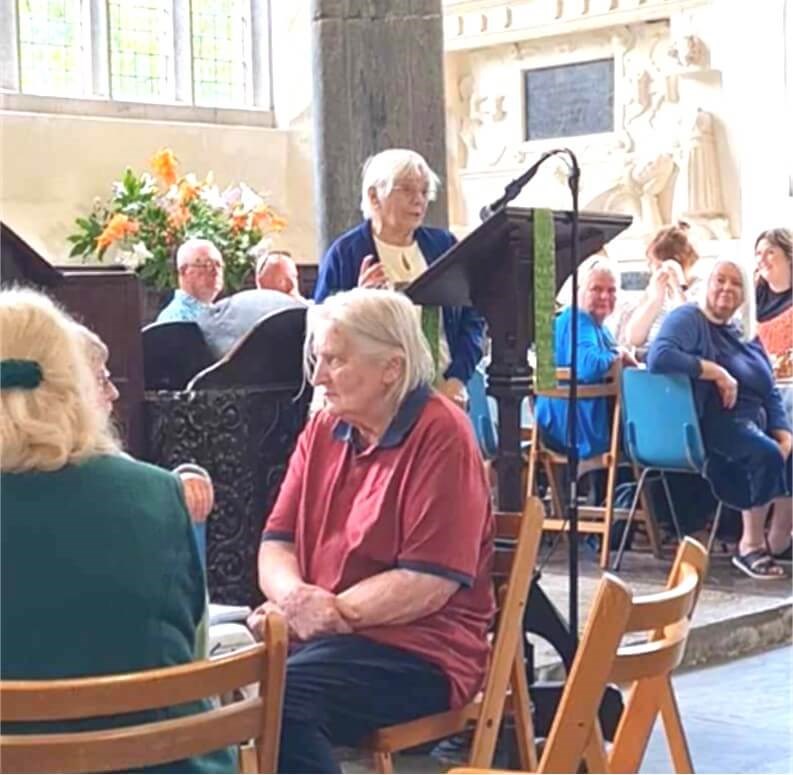 Birthday.
There was a brief break for speeches. Mrs. Maggie Cooper explained that she has known Lilian for about 50 years and paid tribute to Lilian's dedication to her work for the church and for the Bude Tourist Board. She then asked everyone to raise their glasses for a toast and Dafydd struck up, 'Happy Birthday to you'.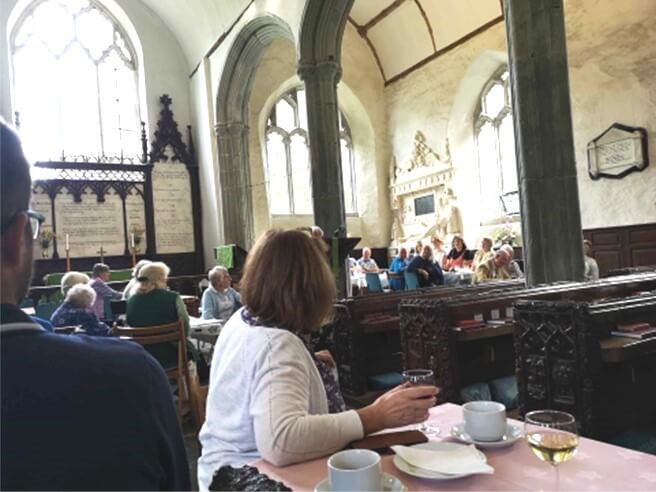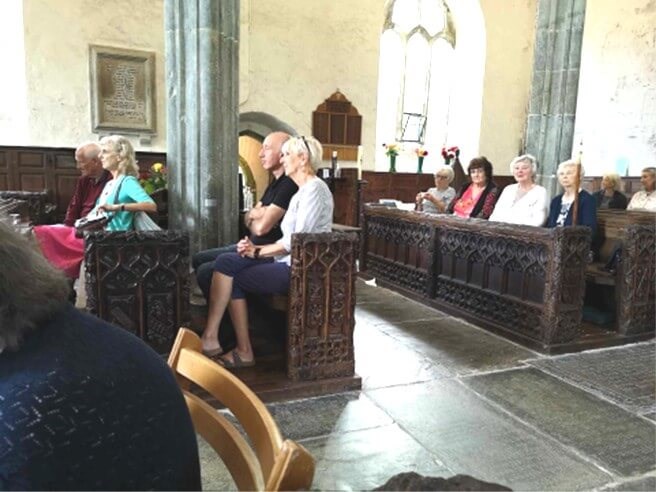 Lilian responded by thanking everyone for coming and also mentioned that she and her family had moved to The Red Post Inn 50 years ago. She added that it was the best decision they had made. She thanked those who had prepared the cream tea and the serving of the food and drinks.
Our Bell ringers came and rang a quarter peal in Lilian's honour. It was a wonderful gesture to give their past treasurer of some 40 years.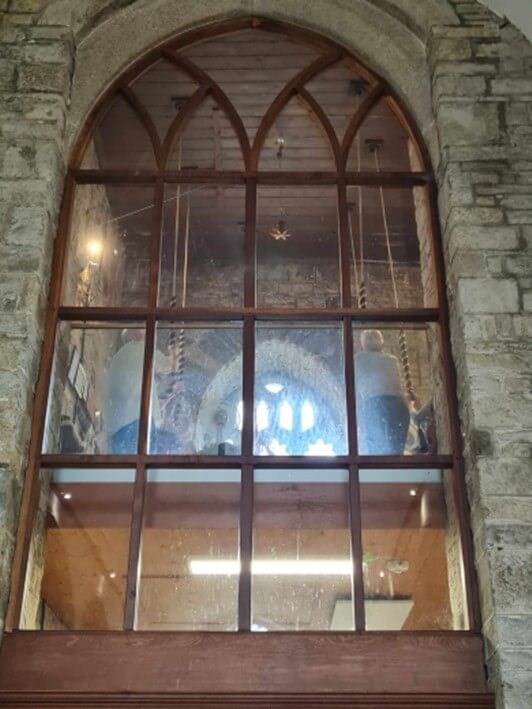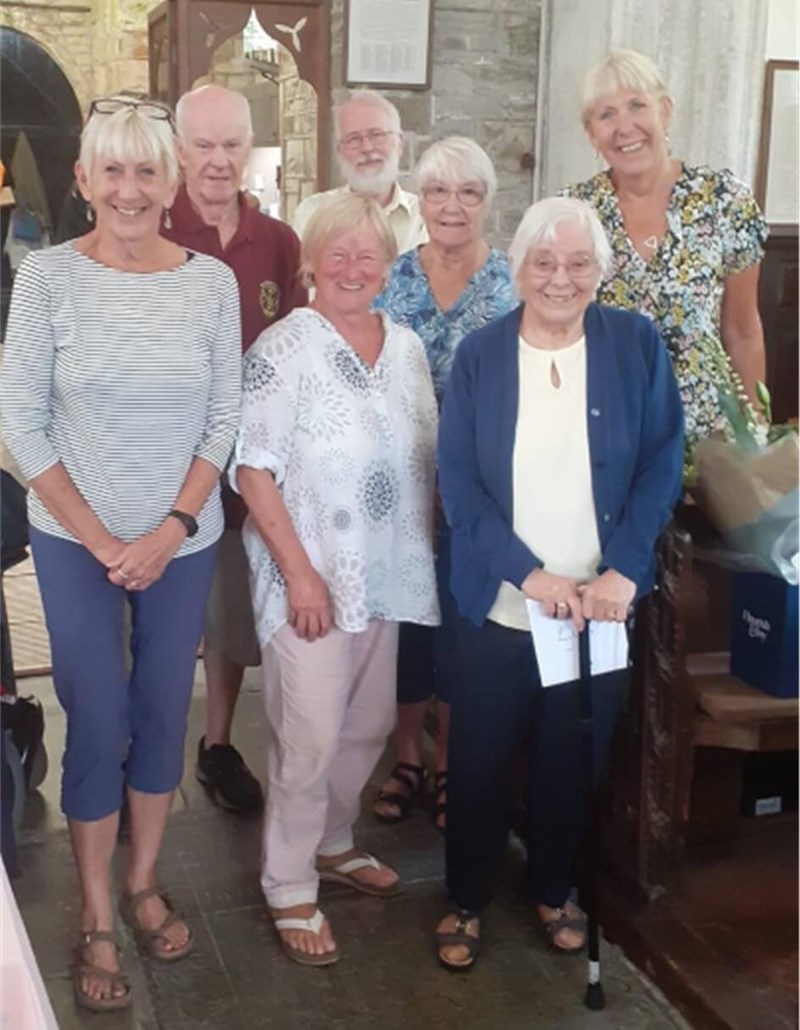 A delightful Memory Book was prepared and all present were asked to sign the book and leave a message, so that Lilian would know who was there on the day.
All who were there for the party, thoroughly enjoyed themselves, particularly enjoying the opportunity to chat with those who they had not seen for a long time. Even Lilian said she enjoyed it!
Approximately £350 was raised for the church, but this could be increased when the card donations are known. As a treasurer Lilian will be delighted with this figure!
Margaret Bond
(Thanks to Sandy Cheshire, Sharon Jenkins and Liz Gliddon for the photographs)
---
A Floral Success!
On Thursday 13th July St. Swithin's held its annual Patronal Flower Festival. It was held over four days and finished on Sunday 16th with a Songs of Praise service. The theme for the Festival was "Natures Colour Palette".
As one walked through the arch of the porch and into the church, one was immediately aware of the fragrance of the flowers, which had spread throughout the building. The arrangement in the main porch and the doorway was formed by Helen Barnes. Called Summer Colours, of 'Green of new summer leaves, Yellow of the summer sun, White of the fluffy clouds and Blue of the summer sky. Pink and red of the summer hedgerows.'
As you walked around the wonderful displays you were drawn to colours, shapes, designs with a feeling of awe for the creative hands which had made them.
At Saint Swithin's we are so fortunate that we have friends of the church who come and support us at this event. Friends from the parish and beyond, and friends from local churches. You know who you are.
Refreshments were available and our kitchen staff were eager to serve up; morning teas and coffee, delicious lunches, and afternoon teas; soups, quiches, chicken dishes, salads, and desserts. Cream teas, trifles, and a wonderful selection of cakes were all on the menu. Most of which were donated! Lansdowne Bakery donated sausage rolls and pasties!! (Thank you so much Andrew!)
Sandy Cheshire organised the flower arrangers. The kitchen team of Rose Harwood, Caroline Tape, Sue Nunn and Beryl Kendrick and the general running of the event was done by Margaret Bond. Lilian Quinn led her bric a brac team and was cashier.
The profit made on the event was £1500, which will go a long way to securing the future of St. Swithin's church Launcells.
Margaret Bond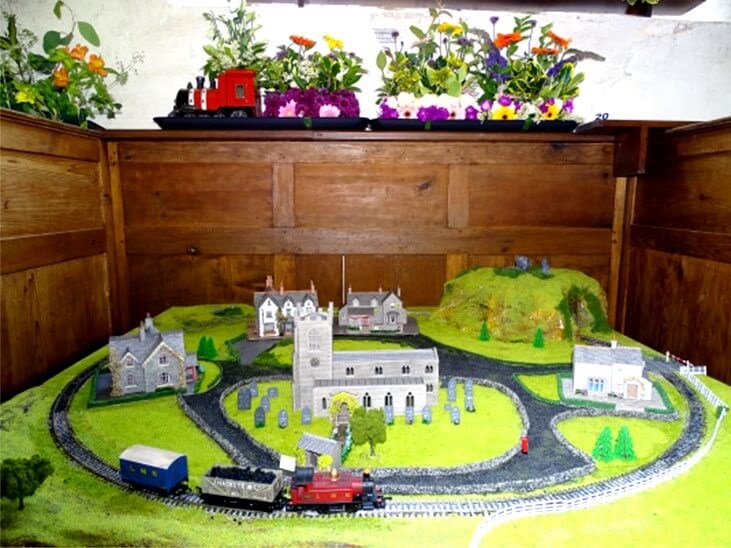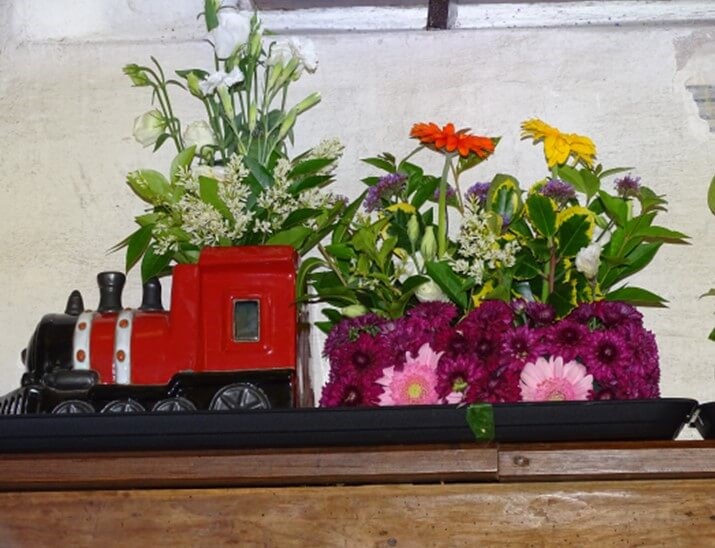 A Fitting 'Good-Bye' and 'Thank You' to Rural Dean, Rev'd David Barnes.
On Sunday 23rd July, the congregations and friends of the churches of the Stratton Deanery, gathered together, at the church of St. John the Baptist in Marhamchurch. It was for a very special occasion. It was to say a big 'thank you' to Rev'd David Barnes for his ministry with the parishes of this part of North Cornwall.
The service in the church of St. John the Baptist had been planned by David himself and it reflected his mission to bring people to Jesus. His sermon was reminding us that Jesus has called each and every one of us, to follow him. David's choice of hymns which he gave us to sing, were those which we knew and could sing with joy. His family were there and one of his daughters gave a speech which showed the esteem in which David is held within his family. We robustly sang 'Happy Birthday'!
Those attending the service had been asked to bring something to eat and share, either savoury or sweet. The Bray was the dining room and the bring and share lunch was deemed a great success.
David was presented with a gift from all the Deanery parishes and Jean was presented with a bouquet.
It was a fitting occasion to say, 'happy retirement' to a man who had devoted his life to his calling, to be a 'man of God'. We wish him and Jean well as they move on to the next stage of their lives. They are not moving too far, only to Boyton. We may well see him again!
Margaret Bond
---
The Archdeacon visits Saint Swithin's Church Launcells
The evening of Tuesday 6th June found the church of St. Swithin in Launcells, full with representatives from all the parishes in the Deanery of Stratton. The Archdeacon of Bodmin, the Reverend Kelly Betteridge was there to greet the churchwardens and hear their vows to care for their churches and further the word of God in their respective parishes.
The service was one of promise and joy in looking forward to the future. A future which will mean some changes to the way we serve our parishes. Some of these changes have already started, particularly in the field of format of services and IT, in the way services and meetings are held. Presentations were made by the Mothers Union, The Prayer Book Society, and the Diocesan Safeguarding officer.
Reverend Teresa Folland, the rector of St. Swithin's led prayers for the church- wardens and for the Deanery. The service finished with a rousing hymn, 'Amazing Grace'. Dafydd Thomas was the organist.
The Archdeacon thanked St. Swithin's for hosting the visitation.
Refreshments were served after the service, and everyone was able to mingle and renew friendships.
Thanks were given to the kitchen staff; Rose Harwood, Caroline Tape and Beryl Kendrick. Graham Tape was organising cars in the car parks.
Margaret Bond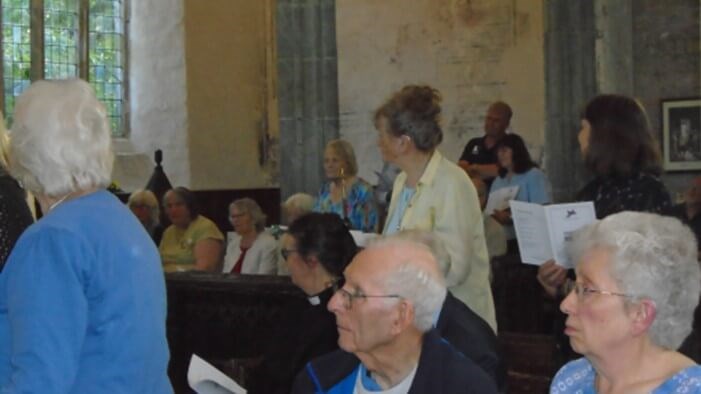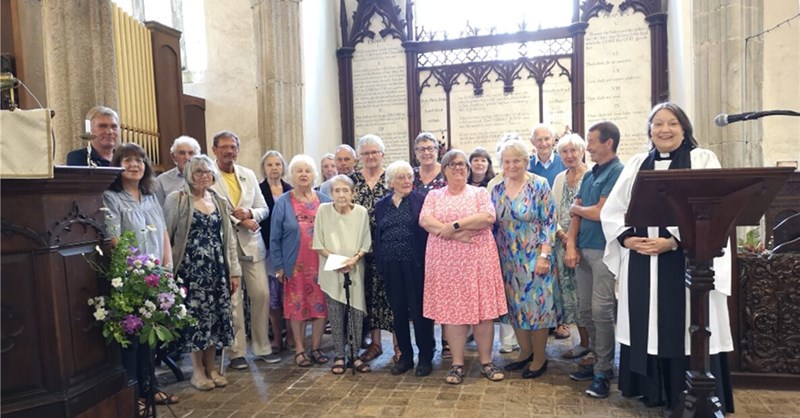 ---
Dear friends,
When writing newsletters, I tend to look forward to the month ahead, but on this occasion, bearing in mind the historic event which took place on May 6th, perhaps you will forgive me for looking back.
It was estimated that billions of people around the world watched King Charles III as he was crowned; some on television screens, some on mobile phones, some live streamed on big screens and a relative few in person. All that historic pageantry in our modern age. Nowhere else in the world could hold such an event and I for one am very glad to have witnessed the ceremony that can trace its roots back to 973 when King Edgar was crowned.
The most poignant moment for me was when King Charles was stripped of all his vestments and finery, down to a simple white shirt to be anointed.At that moment, he was just a man, an ordinary man, with all his failings and weaknesses, kneelingbefore God his maker to be anointed for the task that lay ahead of him.It was a laying aside of all the privilege that he had been born into; a laying down of all power and status and authority as he pledged to serve this nation and the nations of the commonwealth.For he, like us will one day meet his Maker stripped naked of all the pretences, we wrap ourselves in.I believe that something significant, happened at that anointing.
Perhaps you remember your own confirmation and can remember your bishop laying hands on your head. Or perhaps you can remember your adult baptism.I certainly remember my confirmation and ordination.
God uses these moments and ceremonies and rituals to impart and empower us with the Holy Spirit.Charles was anointed to serve his people, however, Jesus chose to serve all people.The ceremony was all about service. It reflected the service Charles has already given and has promised to recommit to.
The congregation was made up of the great – heads of state and office holders from around the world – and the good – the ordinary, extraordinary people who have served their communities.
This coronation gives us all the opportunity to reflect on our own lives as the themes of community life, volunteering and service were highlighted. How will we respond to that call from God to serve one another?
Do you remember Jesus saying that, whatever you did to the least of my brethren, you did unto me. I wonder how God has equipped you, what gifts and talents you have been given to serve the church, your family, your workplace, your community; what he has entrusted you with? Perhaps we think our gifts are too insignificant to do much good? Or perhaps we are unwilling to share what we have or who we are?
We can't all be king or queen. But we can all serve. What will that look like for you?
Yours in Christ,
Teresa
Reverend Teresa Folland
Quiz Night Fun
On Saturday 22nd April we held a fund-raising quiz which was held at the Parish Hall at Grimscott.
It was in fact the first fund-raising event solely for the church since the Craft Fayre last October!!
Keen quizzers were arriving soon after the doors opened and took a glass of wine or fruit juice and a raffle ticket and then settled down for a good evening. There was a good deal of banter, discussion and laughter throughout the evening. A selection of nibbles, cheese, etc. were enjoyed. There must be winners and runners up. The winners were the 'Useless Ukes' and they took away a bottle of wine each.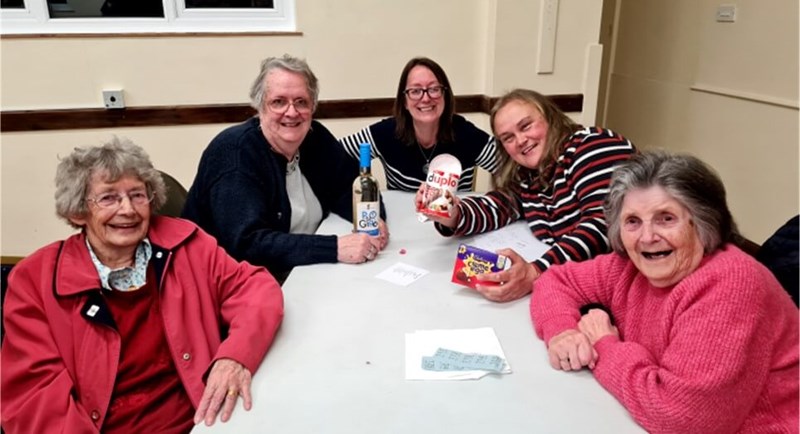 The wooden spoon was won by 'Freda's Fabulous Fillies' who won a load of chocolate!
I must thank all who contributed to the success of the evening. My marker Rose, to Caroline and Beryl, without whom I could not have held the event. Of course, too, to all who took part. I hope to see you next time!
Margaret Bond
APM and APCM
The meeting of the PCC took place on Sunday 23rd April after the Communionservice. It is the annual meeting of the officers of the PCC along with members of the congregation and all who are parishioners can attend and find out what the PCC are doing to protect their church and ensure that it is in good order.
Officers who were elected were;
Churchwarden: Mrs. M. Cooper.
PCC members: Mrs. L. Quinn, Mrs. S. Cheshire. Mrs. F. Hargreaves, Mrs. M. Bond.
Ex Officios: Mrs. M. Cooper, Rev'd T. Folland, Mrs. J. Hunt.
The PCC have several events and concerns and indeed initiatives which they are pursuing, to the end that Saint Swithin's will continue to be the prayerful centre for the parish.
Margaret Bond
---
Lent Lunches
We held three Lent Lunches this year. One was held in the church, one in the Parish Hall, and one at Maggie Cooper's home. The menu was meant to be frugal, so was restricted to soup, bread, cheese and fruit. The soups were all homemade and very delicious!
Donations came to a total of £615. This money will go to three charities shared equally. The three charities are: Shelter Box, Cornwall Refuge Trust, and Home Start Kernow.
Thank you to all who attended the Lunches, and many thanks to those who provided the delicious food, and of course those who donated their time and money, to ensure that the lunches were successful.
St Swithin's Church Spring Quiz
at Launcells Parish Hall on Saturday 22nd April 2023 7pm for 7.30pm
Snacks, Glass of Wine or Soft Drink included
£6 per head - 6 in a team
Book a table or join a table and just have some fun.
For all enquiries contact our Quiz Master Margaret Bond
01409 253776 or 07803 136269 margaretbond23@gmail.com
Festival of St.Piran
On Sunday 5th March, we at St. Swithin's were delighted and honoured, to host the Bude Stratton and District Old Cornwall Society for their 'Festival of St. Piran'.
Some fifty people came to celebrate the Cornish Saint, Saint Piran. The flags of Cornwall were draped on the lectern and the pulpit. The Banner of the Bude, Stratton and District Old Cornwall Society was then processed down the aisle by Alan McIntosh, Jonathan Ball and Ian Saltern, with it being displayed by the side of the altar.
The first reading by Rob Varley was from Ecclesiasticus chapter 44 verses 1-15. It is known as the hymn in honour of our ancestors.
The second reading was by Terry Dooley who gave us an enlightening account of the life of St. Piran.
In between the readings were hymns which reflected the pride that we all hold for Cornwall.
The third reading was about the church of St. Swithin and Launcells. Dafydd Thomas took us through the history of the church along with the connection with Launcells. Dafydd talked us through the features we can see in the body of the building.
Prayers were read for us all, for those who are ill, and for those who we have known and loved, but are no longer with us.
The final reading was a story read by Diana Ohlson, who told the story of a Cornish Pisky, who loses his laugh. We were spellbound and then were relieved to hear that the laugh was found by King Arthur!
The final hymn was of course 'Trelawney' sung with gusto.
After the service tea, coffee, and homemade biscuits were much enjoyed.
Sandy Cheshire produced the Order of Service and lead the Service.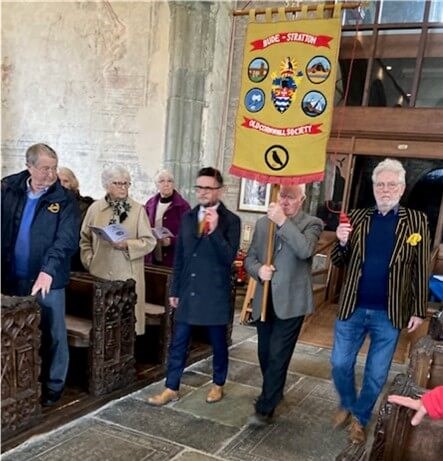 M. E. Bond
---
Dear friends,
It is with sadness that I write to you this month with (at the time of writing, fresh) news that our friends at , St James the Great, Kilkhampton were broken into during the weekend we all celebrated St Piran.
St Piran, the Patron Saint of Cornwall came to our shores because he had been expelled from Ireland for preaching the Gospel of Jesus Christ.
Jesus Christ came into this world to save sinners. What does it mean to be a sinner. For Christians, sin is really about separation from God, It's about those choices we make and temptations we fall victim to that are contrary to what God wants for us.
Sin is about ruptured relationships – with God, with one another, with ourselves. Between individuals and communities, in ways small and big, sin is what keeps us isolated, hopeless and suffering.
And we do not know what those who perpetrated the crime are feeling right now.
Jesus also said, 'For where two or three come together in my name, there am I with them.' (Matthew 18:20, NIV).
And that is what our churches were built for, to gather together in, to worship God, to seek and receive forgiveness for our sins. Yet, this Bible verse is about far more than just prayer or worship. Jesus is telling us something vital about the human condition: We're not meant to go it alone.
That is so contrary to the message of our age. We are told that the individual isabsolute; that I'm worth it, that we should be self-reliant; that there's power inindependence. No wonder so many of us are miserable.
We are, quite literally, made for each other. God formed us for togetherness. It is in community, fellowship and interdependence that God makes His home, "there I am, with them."
It's not always easy. People are messy. Relationships are difficult. Yet togetherness with others, whether there is conflict and disappointment or harmony and delight, is what gives us life in all its fullness.
As we approach and celebrate Easter, we remember that we have all sinned and that love, forgiveness and reconciliation is at the heart of the Easter message that is the Gospel of Jesus Christ.
What drove or motivated the crime, we do not know, but we do know that those who committed it are broken in heart, mind or spirit and so we pray for their healing and we pray that they will seek and thus receive forgiveness.
Yours in Christ,
Teresa
---
News from St Swithin's Churchyard
During Love your Burial Ground week June 3-9th we plan to spend time discovering the wildlife in our church yard.
We will record the species we find: flowers, insects, fungi, lichen and moss, reptiles, mammals, birds. They are all there for us to find!
The results will be collated on the Beautiful Burial Ground Portal within the National Biodiversity Network (NBN), which is a nationwide database of wildlife in the UK.
Please save the dates in your diary …there will be something for everyone to do to take part in this exciting project!
Do contact me if you would like to help in some way maggie.cooper@me.com
Stop Press!
We have taken delivery of our Darley Oak Tree sapling to be planted on the churchyard boundary. We will let you know on social media the planting date in April. This sapling came from an acorn from the oldest tree in Cornwall in the Parish of Linkinhorne on the Eastern edge of Bodmin Moor …thought to be a thousand years old ! (See website above)
Maggie Cooper
---
Benefice Service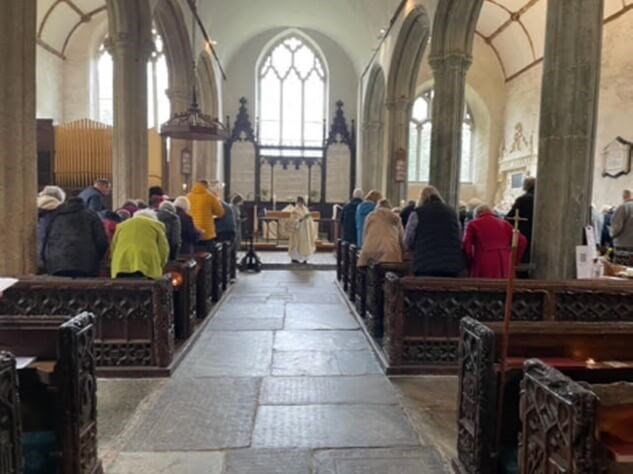 On Sunday 29th January, Saint Swithin's church was the host of the Benefice Service. All five parishes were represented. Sheila Waring led the service with Rev'd Teresa Folland giving the sermon and was the celebrant. Dafydd Thomas was the organist. Zinnia and Tim Symonds led us in prayers.

Sunday 29th January was also Candlemas Sunday. The church had many candles around the church, which gave a special light shining on the congregation. On arrival at the church, 52 worshippers were handed a candle, which was lit during the service.
The final hymn was 'Love divine all love excelling', sung to the tune Blaenwern, which was a rousing finish to the service.
After the service tea, coffee, biscuits and cake were served. It was a wonderful opportunity for fellow worshippers, colleagues, and friends to have fellowship.
Margaret Bond
Taize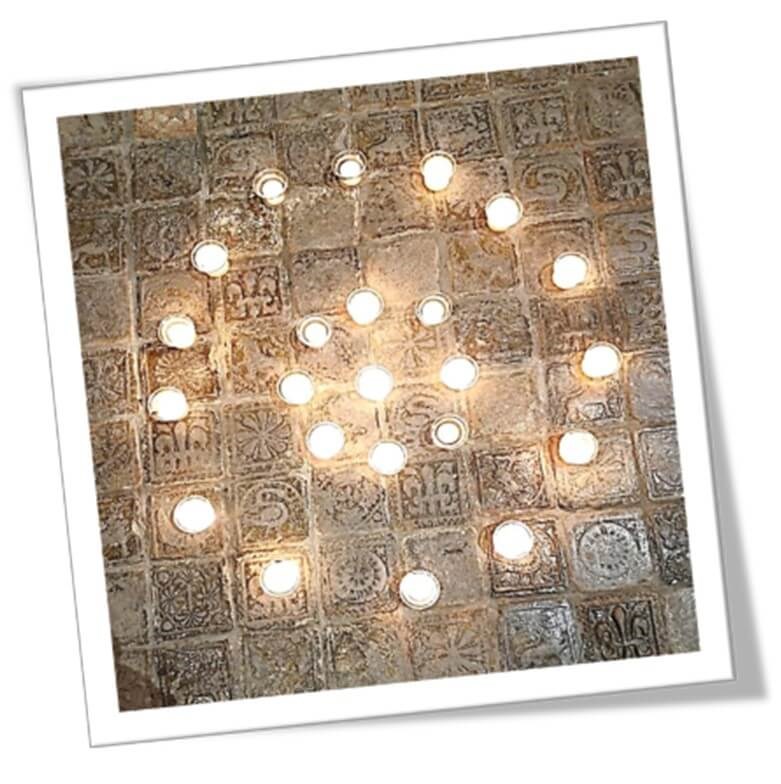 Mid-January, we had a lovely Taize service, led by Rev Teresa, which followed the theme of Come and See. It was a quiet, peaceful and calming time of prayer reflection and quiet singing of simple chants to some beautiful music.
We sat around flickering Candles that had been placed in circles to represent a drop of water, splashing and rippling outwards; as it did when Jesus was baptised and when he spoke. Jesus invited his disciples (to be) to Come and See what he was about and who he was and to simply spend time with him. The candles were mesmerizing as Jesus must have been to sit and listen to.
Why don't you, Come and See. The next Taize service is on Sunday 19th February, led by Church Wardens, Jan and Maggie and then every third Sunday of the month at 6pm, Experience a really soothing way to wind down and relax, before a busy new week begins.
Sandy Cheshire
Dates for Your Diary
On Sunday 5th March. The Old Cornwall Society will be holding their St. Piran's Day Service in church at 11.15am. Refreshments will be served afterwards. All will be most welcome.
---
We will be holding Lent Lunches during March. Here are the details.
Friday 10th March, from 12.30am, in Church, hosted by Margaret Bond.
Friday 17th March, from 12.30 am, at the Parish Hall., hosted by Jan Hunt.
Friday 31st March, from 12.30 am, at 'The Old Rectory, Whitstone', hosted by Maggie Cooper.
---
On Sunday 19th March it is Mothering Sunday. There will be a service at 11.15am where we are inviting all parents and children to come and join us. Special posies of Spring flowers will be handed out to all the mothers and children.
---
Advance notice of a quiz to be held in the Parish Hall on Saturday 22nd April, 7.00 for 7.30 start.
Advance notice of our Flower Festival which will run from Thursday 13 July to Sunday 16th July.
Advance notice of our Craft Fayre which will run from Thursday 14th September to Saturday 16th September.
Margaret Bond
Celebrating Christmas At St Swithin's Church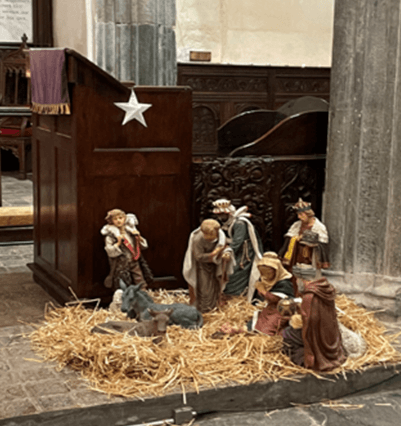 We started our celebrations with an Advent Carol Service on 4th December.
On Tuesday before Christmas, a Crib service was led by Rev Teresa Folland. It was a very happy time enjoyed by lots of parents and children dressing up and acting, to recount the story of the birth of Jesus. The service was followed by hot chocolate and mulled wine, nibbles and sweets and lots of excited chatter!
On Wednesday we held a Carol Service at Fairfield Country Rest Home, with residents and staff reading the lessons and singing heartily, unaccompanied…this was followed by tea with mince pies.
During the week prior to Christmas, the church was beautifully decorated with flowers arranged by members of the congregation.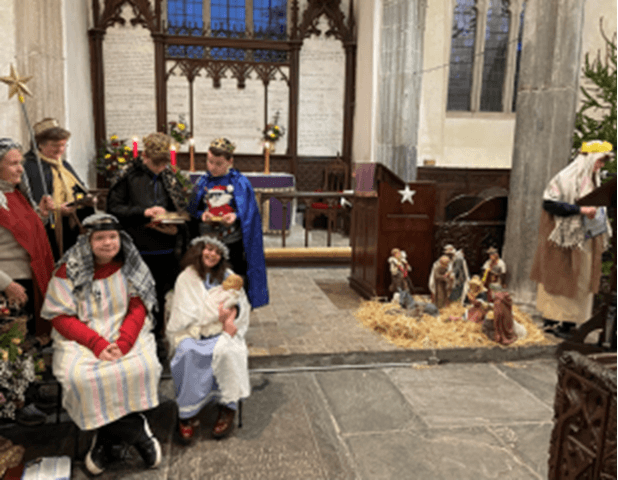 Rev. Teresa, took a special Communion service on Christmas Day which was well attended by regular church goers and lots of visitors. We were to take Communion from a table covered in hessian, representing the manger where Christ was born. Before taking Communion we were invited to lay a piece of linen onto the table, representing the swaddling clothes that the new born Christ was wrapped in... Rev Teresa suggested we could place our sheet of linen onto the table while thinking of someone who we love and who needs our prayers or perhaps problems in our lives we need to share with God. This was a very solemn and moving moment. She then folded the cloths over as if swaddling a baby and offered all our thoughts to God. After this moving service we left the church ready to continue celebrating the day with family and friends.
Jan Hunt and Maggie Cooper
Church Wardens at St Swithin's Church
St Swithin's Bellringers
The bellringers at Swithin's are looking to recruit new or lapsed bell ringers to join our happy band. Bell ringing is an ancient skill going back in its present form to the sixteenth century and we have lovely set of 6 bells here at Launcells. We meet most Tuesday evenings for ringing practice and we are there any time after 7.15 pm if you'd like to come along to see what we do. We would also be able to offer one to one tuition for complete beginners. If you are interested please contact the Tower Captain Helen Barnes on 07825168799 or email helen-barnes@hotmail.co.uk
We are a very friendly bunch and you'd be made very welcome.
Helen Barnes
Christmas Flowers
It's always a pleasure to arrange flowers at St Swithins Church, especially at Christmas time.
Our little crew of ladies turn up to arrange the flowers at every church celebration. There is a special effort made with the Flower Festival every July.
This Christmas I went as usual to search for some promising blooms trying Morrison's store first of all. The usual glitzy bouquets were on offer, but in the corner of the flower section I spied a glorious selection of long stemmed blooms. As there weren't any price stickers on the fine looking blooms I found the usual helpful assistant, she asked me to stay right there. A few minutes later she returned with Chanel Worden, a young lady in charge of supporting local causes. Chanel passed me armfuls of lilies, roses and ornamental dried leaves, they were all donated by Morrisons. What a lovely surprise. So if you have a good cause or we would like help supplying flowers for our future celebrating Chanel says contact her :- Chanel Worden Champion.Bude@morrisonsplc.co.uk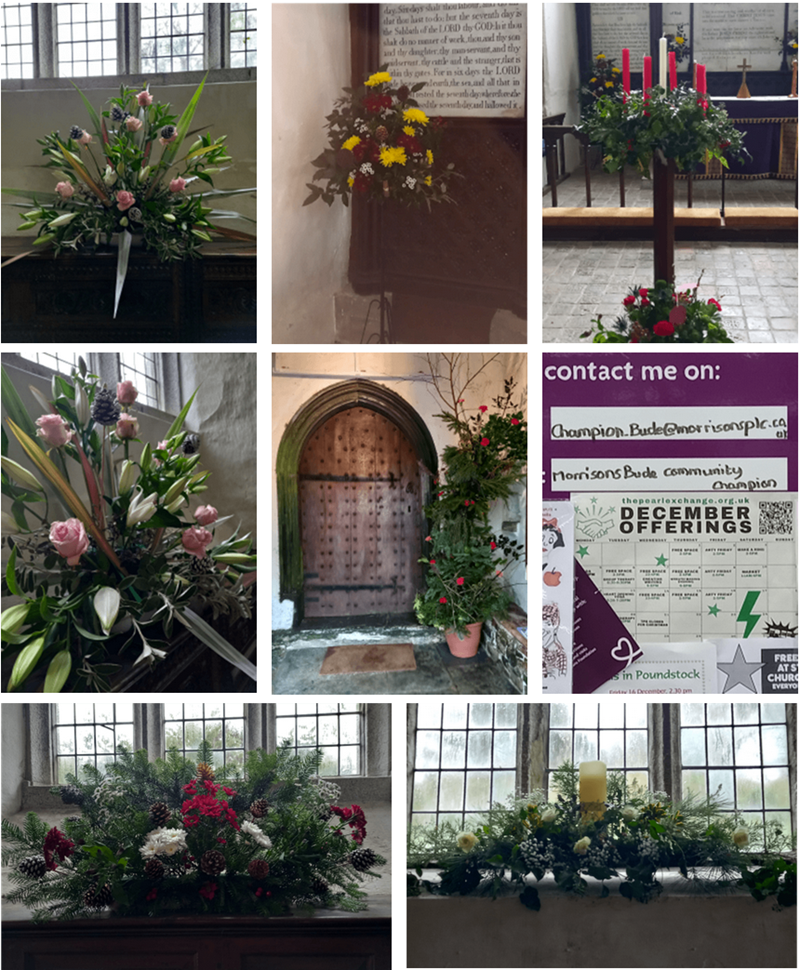 Nine Lessons and Carols Service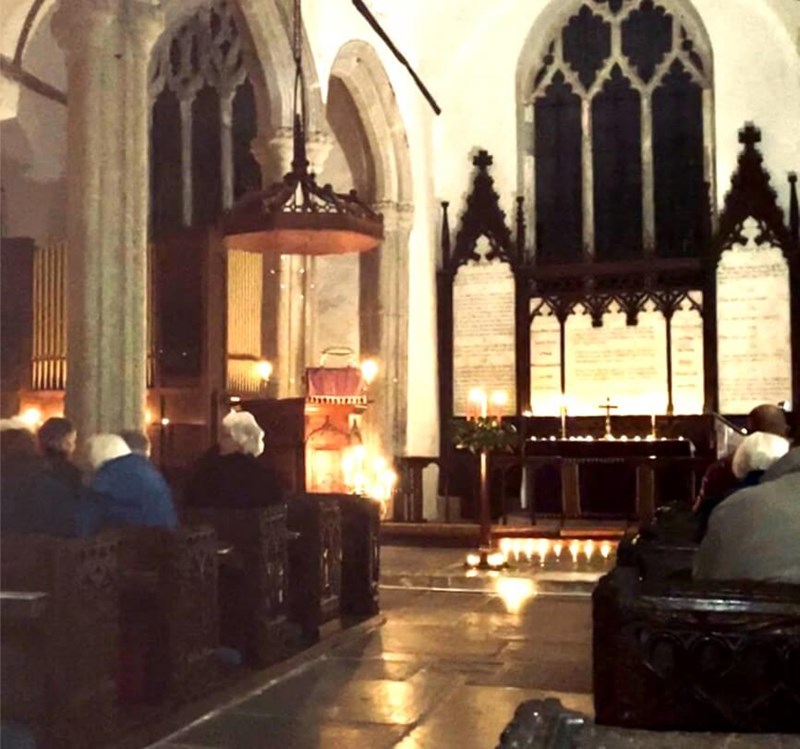 On the evening of Sunday 4th December, we saw the Christmas celebrations at St. Swithin's begin, with a beautiful and meaningful carol service. As one entered the church through the heavy, ancient door, one saw the magical, candlelit setting for our annual 9 lessons and candles service, and we could hear the bells ringing.
About fifty expectant worshippers, came to experience their first Christmas service. The service was led by Reverend Teresa Folland. Prayers started the service. The first hymn was 'Good Christians all, rejoice'. Which was followed by, the readings, which began with 'God promises to faithful Abraham that his seed shall the nations be blessed'. The readers were: Rev'd Ben Lillie, Helen Barnes, Margaret Cleave, Clare Monro, Gill Cole, Chris Brewerton, Suzanne Littlejohns, Sandy Cheshire and Rev'd Teresa Folland. The service finished with singing 'Hark the Herald angels sing'.
The retiring collection was given to St. Petroc's Society who work to end homelessness in Cornwall. After the service we enjoyed mulled wine, mulled cider and mince pies.
Thanks are due to Reverend Teresa, our churchwardens, Jan and Maggie for organising this memorable Christmas Carol service.
Margaret Bond
The Ringers of Launcells Tower
The painting below was inspired by the poem 'The Ringers of Launcells Tower' by Reverend Hawker of Morwenstow. The bell ringers who had rung the bells at the accession of George III in 1760, were still alive and able to ring the bells on his Golden Jubilee in 1810. As the painting was done 77 years after George III's Golden Jubilee, it is a total reconstruction. Nevertheless, Frederick Smallfield (b.1829 - d.1915), who exhibited regularly at The Royal Academy, had visited the church tower before he started painting and had studied the bell ringers at his local church in Willesden, London, to get the figures' movements correct.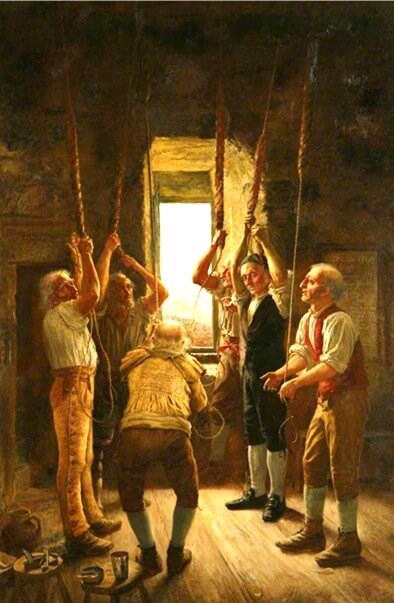 They meet once more! That ancient band –
With furrowed cheek and failing hand, –
One peal today they fain must ring
The Jubilee of England's King!
*************
They meet once more – but changed are now
The sinewy arm and laughing brow:
The strength that hail'd in former times
King George the third with lusty chimes!
*************
Yet proudly gaze on that lone tower!
No goodlier sight hath hall or bower, –
Meekly they strive – and closing day
Gilds with soft light their locks of gray!
*************
Hark! Proudly hark! With that true tone
They welcomed Him to Land and Throne,
So ere they die they fain would ring
The Jubilee of England's King!
*************
Hearts of old Cornwall! Fare ye well,
Fast fade such scenes from field and dell,
How wilt thou lack, my own dear land,
Those trusty arms, that faithful band!
On 11th September 2022 a team once again rung the bells at St Swithin's Church for an accession to the throne…for King Charles 111.
Those who rung were: Liz Gliddon, Chris Humphreys, Nigel Cann, Esther Jones, Helen Barnes (Tower Captain). The two visiting ringers, who we were delighted to welcome, were Michael Clements and Peter Godden.
I have submitted this article in the hope that in future a list of ringers will be recorded each time a team rings for such a memorable occasion. And no pressure on the group above…who will be ringing for the accession of our next monarch?
Maggie Cooper
Church Warden, St Swithins, Launcells
"Thank You"
This is to thank all who delivered the December issue of the magazine and also the Christmas cards including Alison Butler, Tina Elderfield, Marlene Bath, and Nigel Hunt plus my friends Frank and Megan Daglish who help me to cover the outskirts of the Parish. All very much appreciated.
The enormous job that Mandy and Brian Pollard do throughout the year must not be overlooked.
What would we do without them all?
Lilian Quinn
Services Over Christmas
Sunday 4th December - 9 Lessons and Carols.
Tuesday 20th December 4.00pm - Crib Service
Sunday 25th December 11.15am - Holy Communion with Rev'd Teresa Folland
St. Swithin's celebrated Harvest with a Harvest Lunch
St. Swithin's church, Launcells decided to hold a Harvest lunch instead of an evening Harvest supper this year, and what a good move that was! The Harvest festival service was held at 11.15am. There was a good display of food and produce in the church, which was later taken to the Bude food bank.
The lunch, held in the Parish Hall, was a most enjoyable event. The food was produced by members of the congregation. The choice was between wonderful veggie and meat Lasagnas, some delicious cottage pies, trifle, fruit crumbles, cheese and biscuits.
Thank you to all who brought their food. Thanks to those who worked hard in the kitchen, making sure everything was served hot and on time. Thanks to those who prepared the food, without whom this could not have been possible.
Donations were for the Bude Food Bank. The amount raised was around £500. Thank you everyone.
Margaret Bond
St Swithin's Quiz
It was with regret we had to cancel the Quiz scheduled for Friday 18th November.
St. Swithin's, Church remembers the fallen, at their Remembrance Service
On Sunday 13th November, the congregation of St. Swithin's Church gathered before the usual Sunday service to remember the soldiers who had been killed in wars. The events in Whitehall at the Cenotaph were heard and as Big Ben rang 11 O'clock and a gun salute, a two-minute silence was held. Mrs. Jan Hunt led the service with prayers.
Lt Col. Richard Grevatte-Ball read the names of the men of the parish who had fallen in the first world war. They are John Coles, Eli M. Gardener, Arthur Gilbert, John H. Gilbert, William Gerry, John O. Jewell, Samuel Leach, John C. Lyle, and William Venner. He then laid a wreath from the church. Mrs. Margaret Bond laid a wreath from the County Council. The service concluded with singing the National Anthem.
Margaret Bond
Annual Craft Fayre at Saint Swithin's, Launcells.
The Annual Craft Fayre was scheduled to take place in September as usual, but the death of Queen Elizabeth meant that the date was changed. So, it was held between 18th and 22nd October.
The church was transformed from a place of worship to a marketplace. Carefully placed boards were placed over the top of the pews. There was a total of 36 stalls. One of the stall holders had been coming for twenty years, others were selling at the Craft Fayre for the first time.
The stalls were full of homemade jewellery, jams, pies, tarts. Along with toys, cards, pottery, woodwork, and paintings. The Ark Angel Bookshop had a table, and there were other stalls with Christmas decorations, cards and toys. This year there was an increase not only in the quantity of goods but also in the quality!
Teas, coffee, cake, cream teas; along with delicious lunches, were served from the kitchen. The week was very successful, due in most part to all the hard work that was put into making this Craft Fayre one that people will remember.
Those who must have a mention are; Jan Hunt who was cashier and banker. The kitchen staff included, Rose Harwood, Caroline Tape, and Beryl Kendrick. The Bric a Brac corner was manned by Lilian Quinn, Mary McBrinn, and Megan Dalglish. The setting up and the taking down was done by Brian Pollard, Nathan Pollard, Matt Stokes and helpers. Without these good people the Craft Fayre would not have been sosuccessful. Thank you all so much for giving up your time and effort for this cause.
Margaret Bond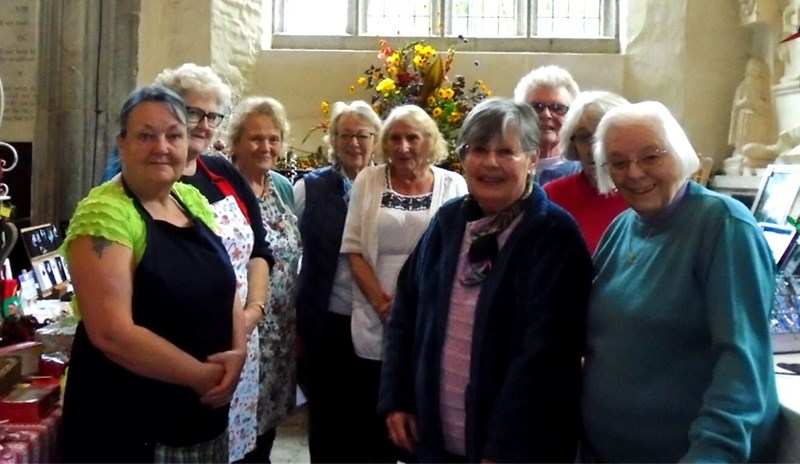 From left to right: Rose Harwood, Caroline Tape, Maggie Cooper, Jan Hunt, Beryl Kendrick, Barbara Atkins, Margaret Bond, Megan Dalglish, Lilian Quinn.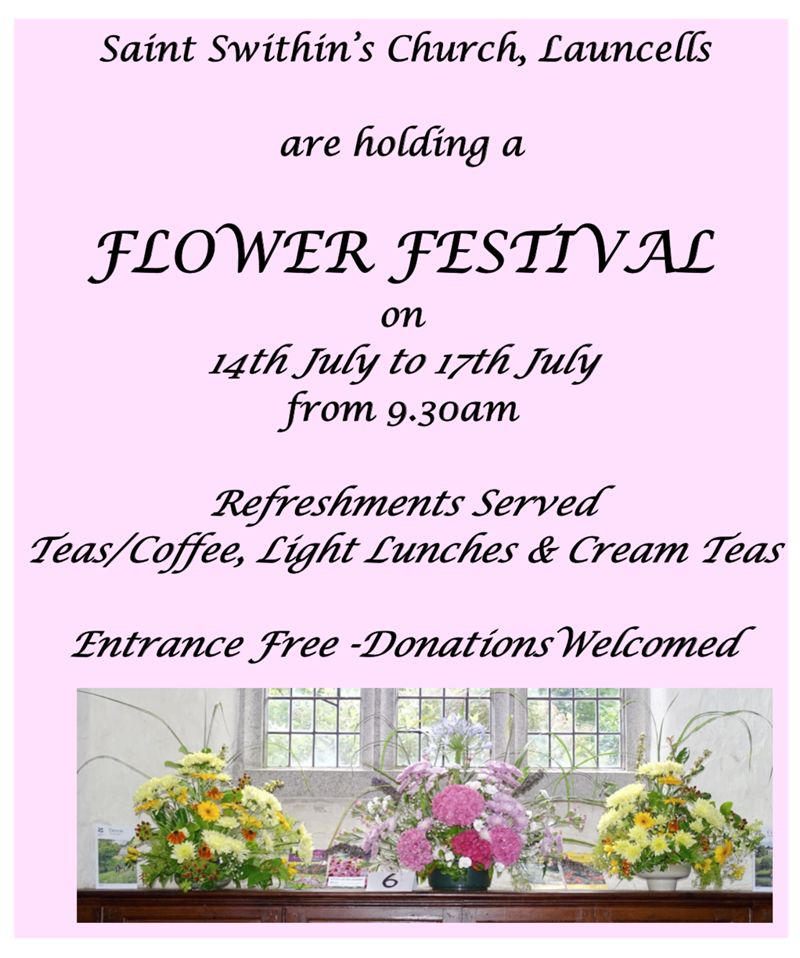 July 2022: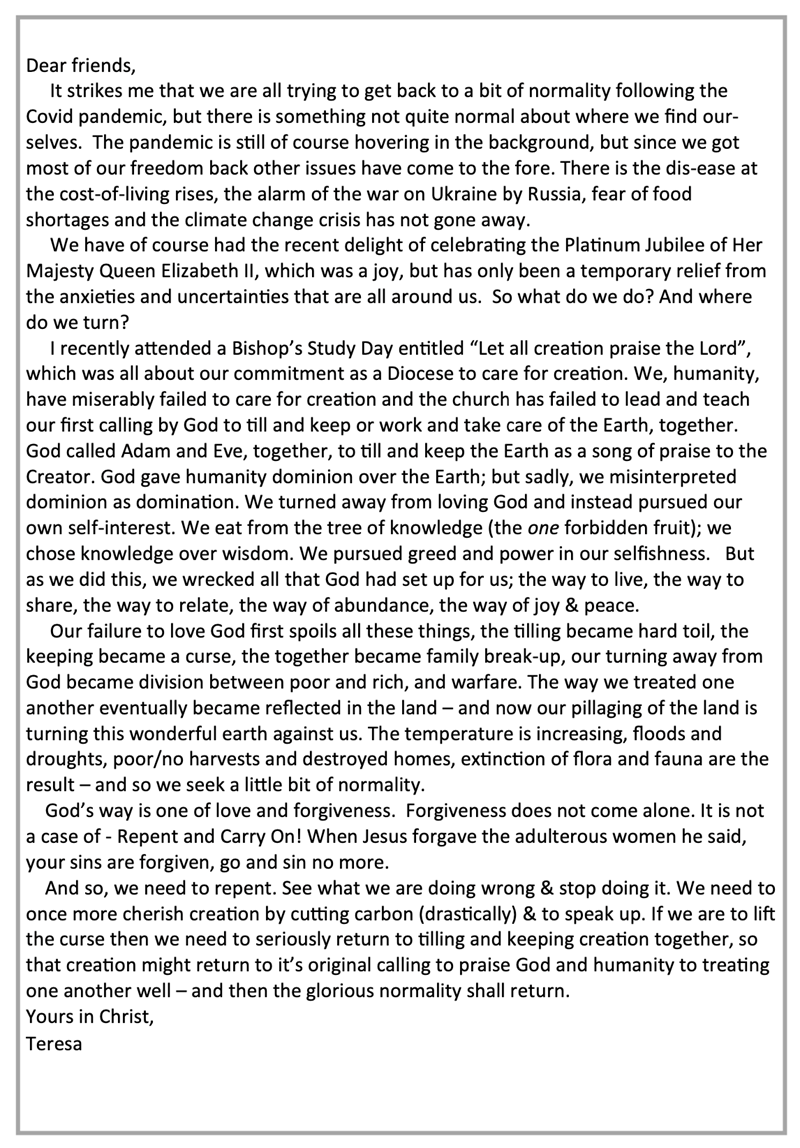 March 2022: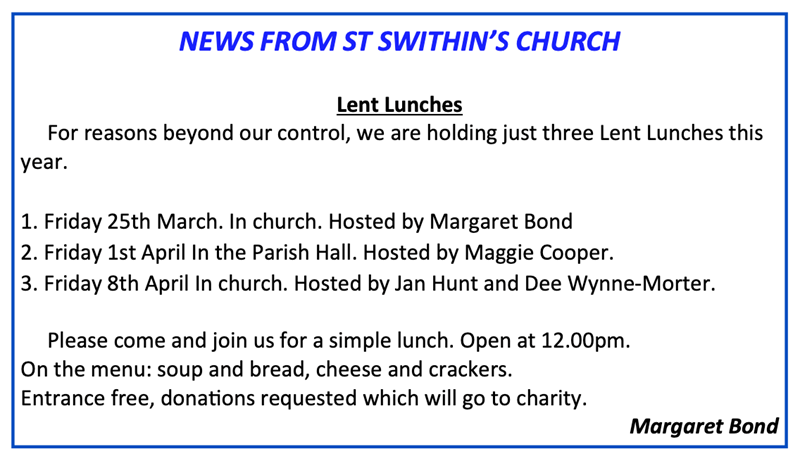 January 2022: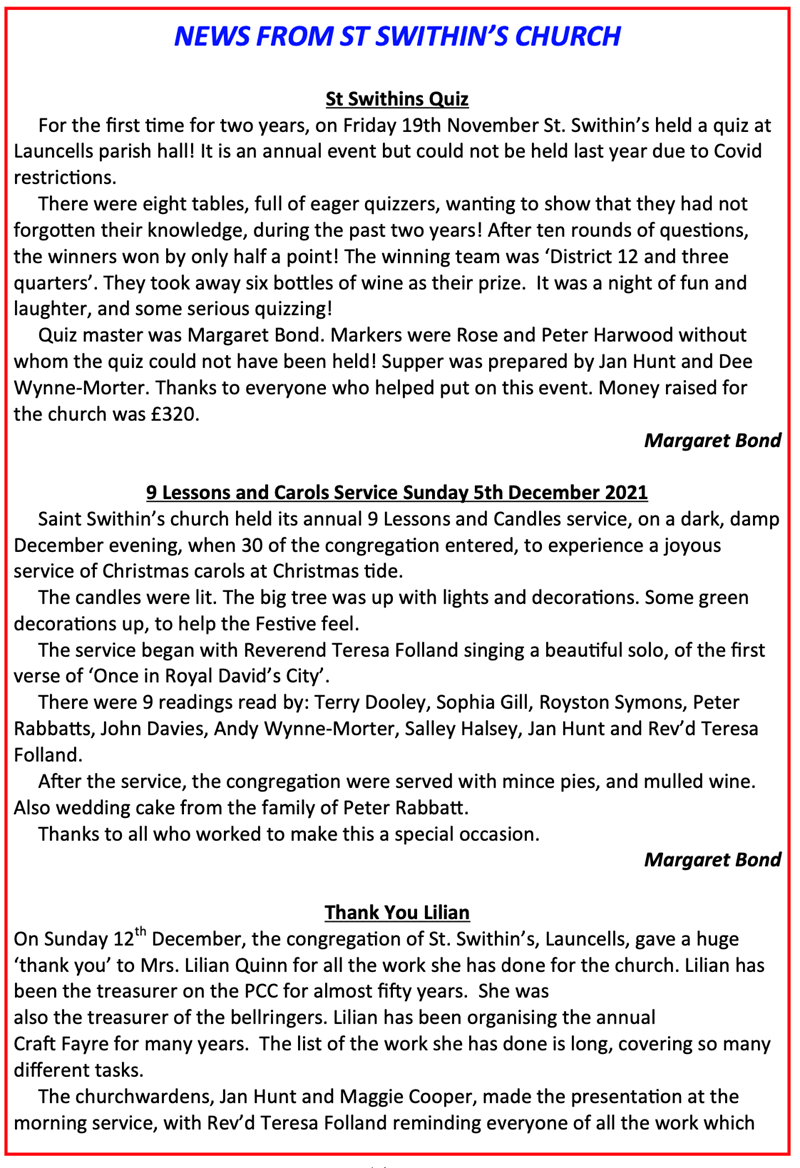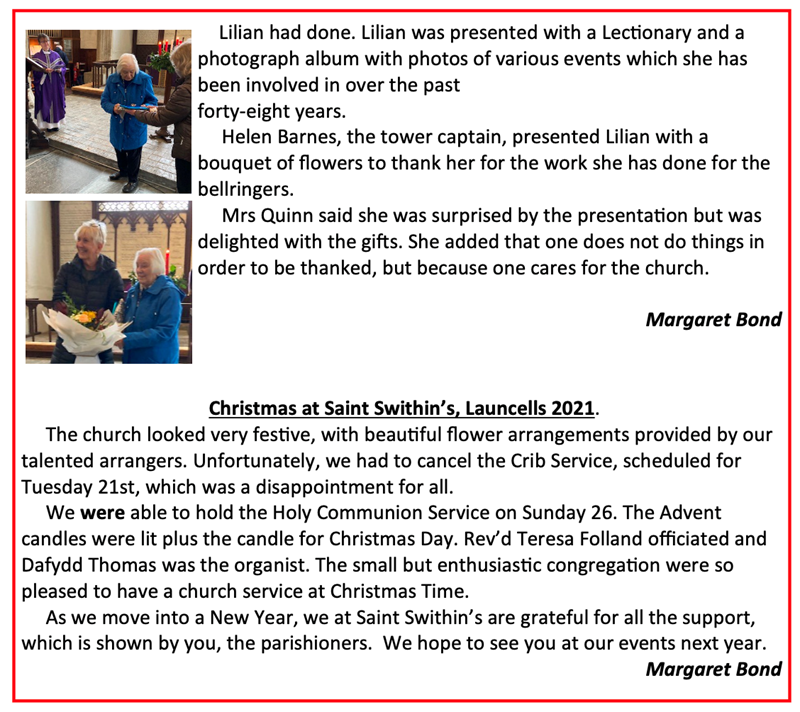 December 2021:
Dear friends,
Golly, it's the 'C' word!
Christmas is coming, very soon to a place near you!
Christmas just has to be one of the very best times in the year. So much celebration; friends & family, food & festivities, and we want it to be so much better than the limited & muted merriments of 2020.
The excitement & anticipation, preparation & plans are all part of it, and at St Swithin's we will be doing just that throughout December as we move through Advent.
We have already planned our services to celebrate the birth of Jesus. We have the four Sundays before Christmas when the Advent Wreath will be lit; on the 5th December we have the 9 Lessons and Carols service at 7pm, with festive refreshments afterwards, then on Tuesday 21st December, we have the much-loved Crib service at 4pm. We will be hosting the Holy Communion service for the Benefice on Boxing Day, when we invite you to come and meet with the new born baby Jesus in the stable.
Preparations will be made as the church is decorated, the Christmas tree arrives and the Advent Wreath is prepared. And the church remains open for you to come in and spend a while in God's presence as the busy world continues around you. It's all part of the Light of the world dispelling the darkness all around us.
The Sunday services will help us anticipate as we consider the patriarchs of our faith (Abraham, Moses & the like), then the prophets (Isaiah et al who foresaw & proclaimed the coming of the Messiah), on the third week we are getting closer to the birth of Christ and think about John the Baptist who was born six months before Jesus and came with the specific message to get ready, because the coming King was very near and finally we remember the angel Gabriel's visit to the Virgin Mary, telling her she was going to give birth to the Christ-child.
Finally we have the excitement of the birth of Jesus on Christmas day; God with us, Immanuel! And what an amazing thing to have happened. God, himself, in the form of his Son, dwelling amongst us, totally accessible, totally with us, totally understanding what it is to be human, totally loving us, totally meeting us where we are, totally meeting all our needs, totally answering all our prayers; God with us.
I don't know about you, but I can't wait!
Wishing you the blessing of peace, joy, hope & love
this Advent and Christmas season.
Reverend Teresa
: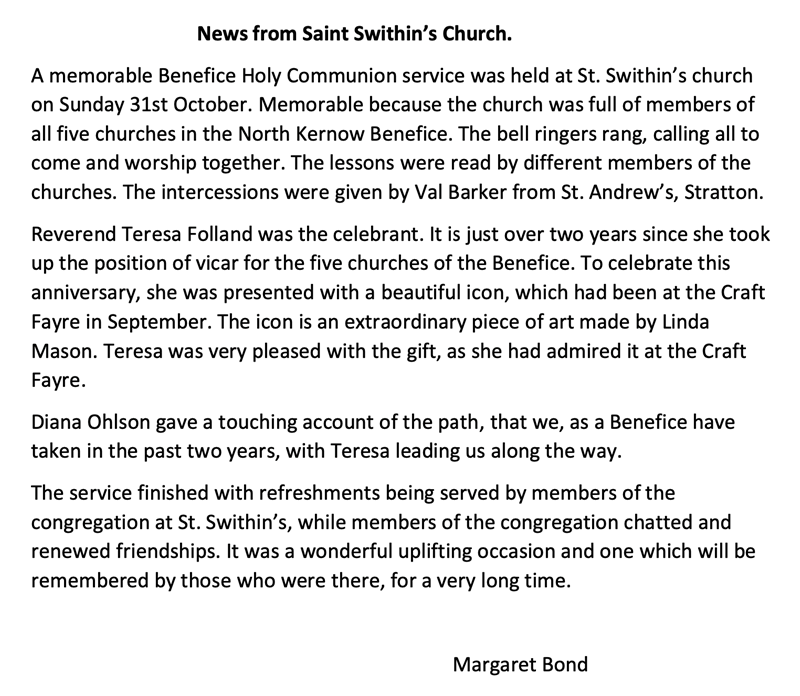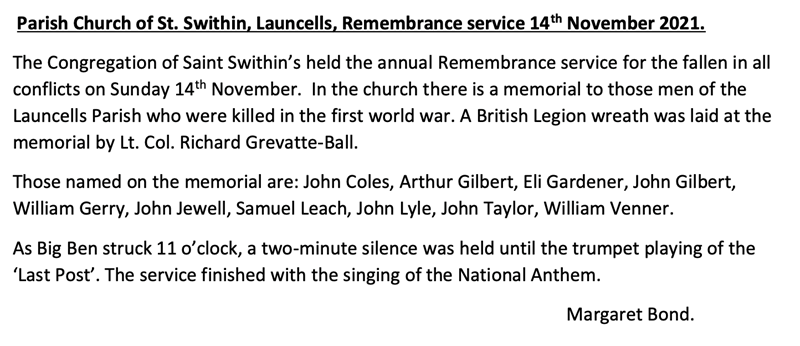 November 2021: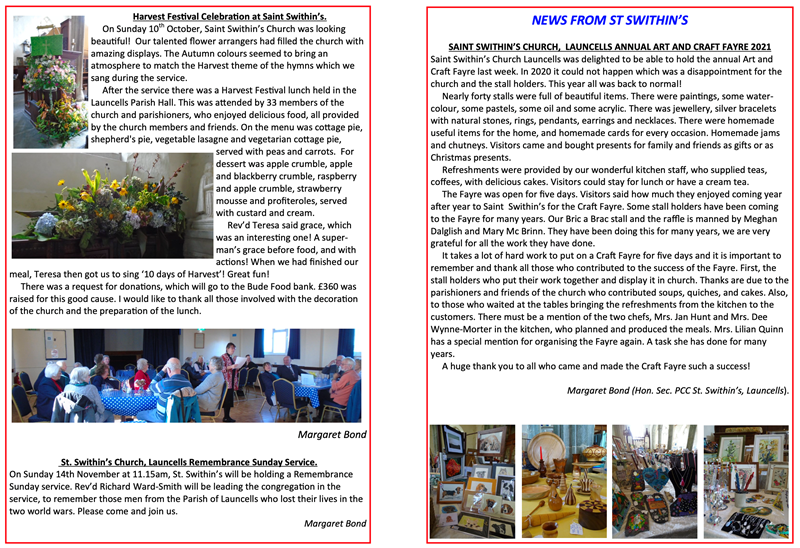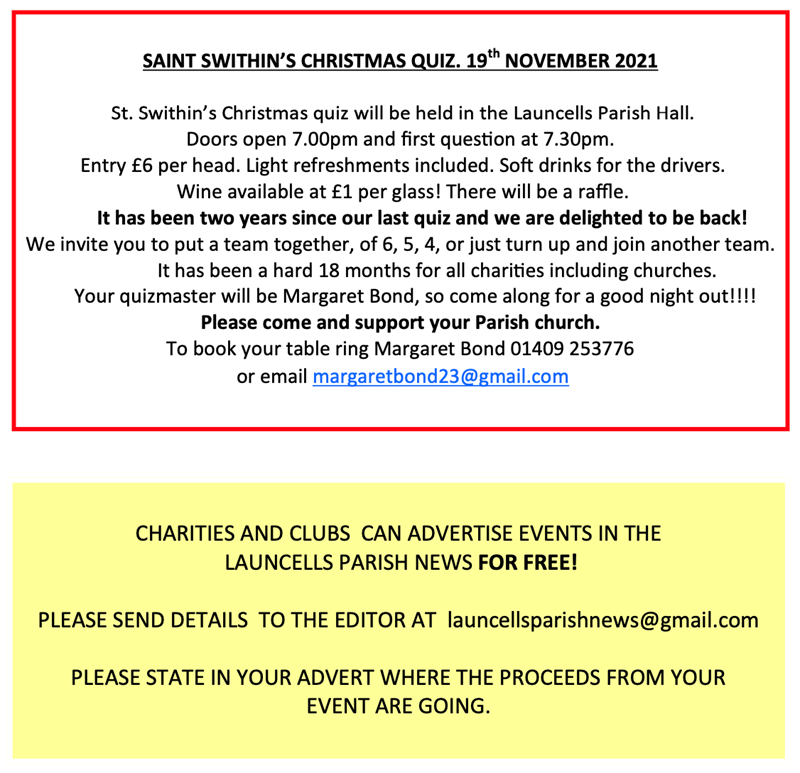 September 2021: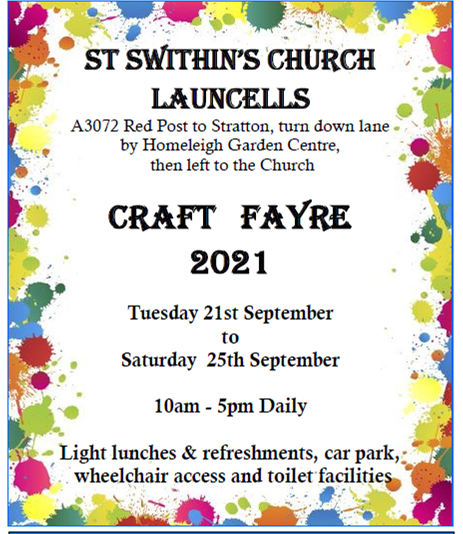 August 2021: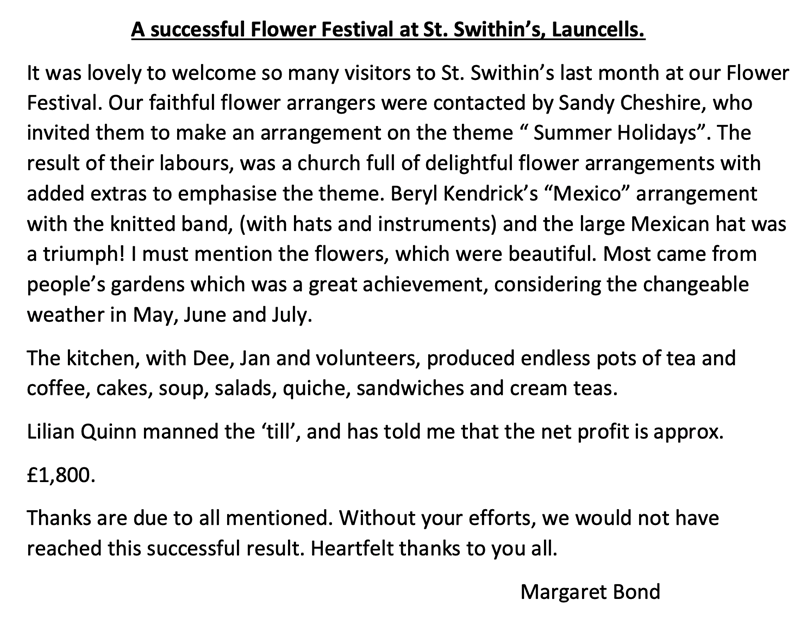 July 2021:
News from St. Swithin's, Launcells.
Stop Press! Stop Press! Stop Press! Stop Press! Stop Press! Stop Press!
Due to the latest news from the government, we have had to postpone the events planned for the Flower Festival and the Celebration weekend.
We are going to hold the Flower Festival from Thursday 22nd July to Sunday 25th July.
This will include our Celebration weekend on Saturday 24th and 25th July.
We are going to hold the same events that were organised originally. This will include free afternoon tea being served to you on Sat. 24th and Sun. 25th July.
Cut out this ticket and bring with you and you will have a free afternoon tea! (you will need the ticket from a printed copy of the magazine)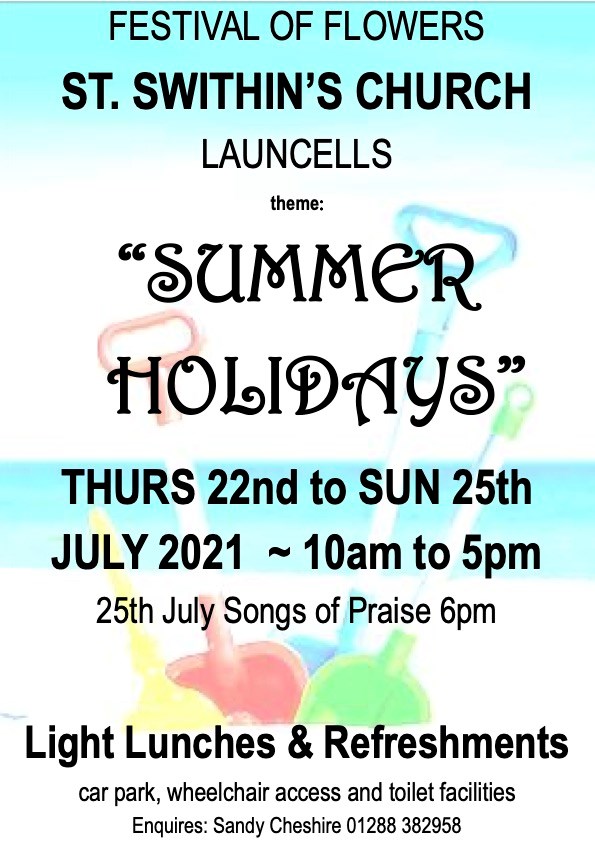 June 2021: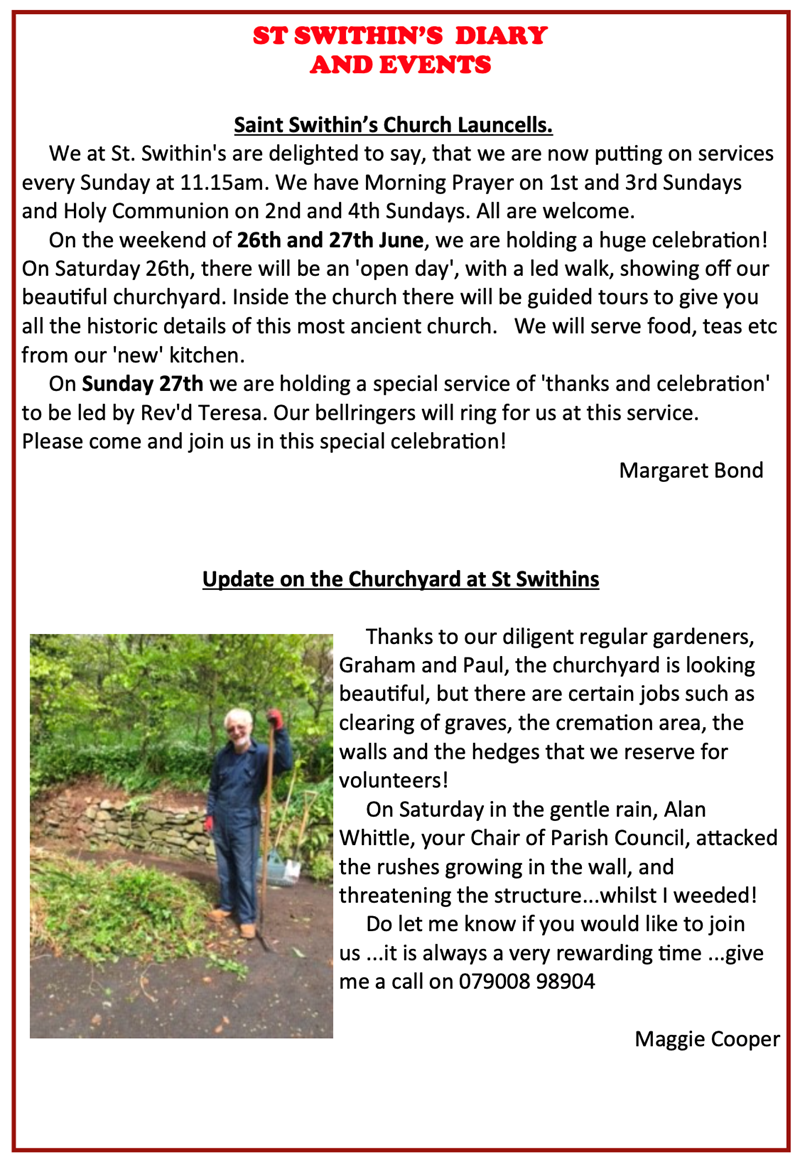 May 2021:
News from Saint Swithin's, Launcells.
Advance Notice of a Celebration Open Weekend at Saint Swithin's Church. This will be an event to celebrate the reopening of our church.
We will welcome all to come to YOUR church on Saturday 26th June with graveyard tours and history tours inside the church. Sandwiches, tea, coffee, and cakes, will be served. This followed on Sunday 27th June with a celebration Service led by our vicar Rev'd Teresa Folland. More info. to follow.
Margaret Bond
St Swithin's Churchyard
….Is looking more beautiful than ever in its Spring colours!
Do come down to see it…the Cherry blossom is still out, and I spotted 14 different wild flowers
The other day, while walking along the paths.
Please let me know if you see more!
-----
On 8th May at 10am, I am holding a working party (distanced of course), with no chatting unless 2metres apart.
All are welcome!
I will be there for 2 hrs - but do just call in for a chat or work for an hour or two whatever you wish, we will be very happy to see you!
The main jobs are clearing the tombstones and graves and weeding the left hand cremation areas.
Please bring your own tools, kneeler, bucket etc
Maggie Cooper
079008 98904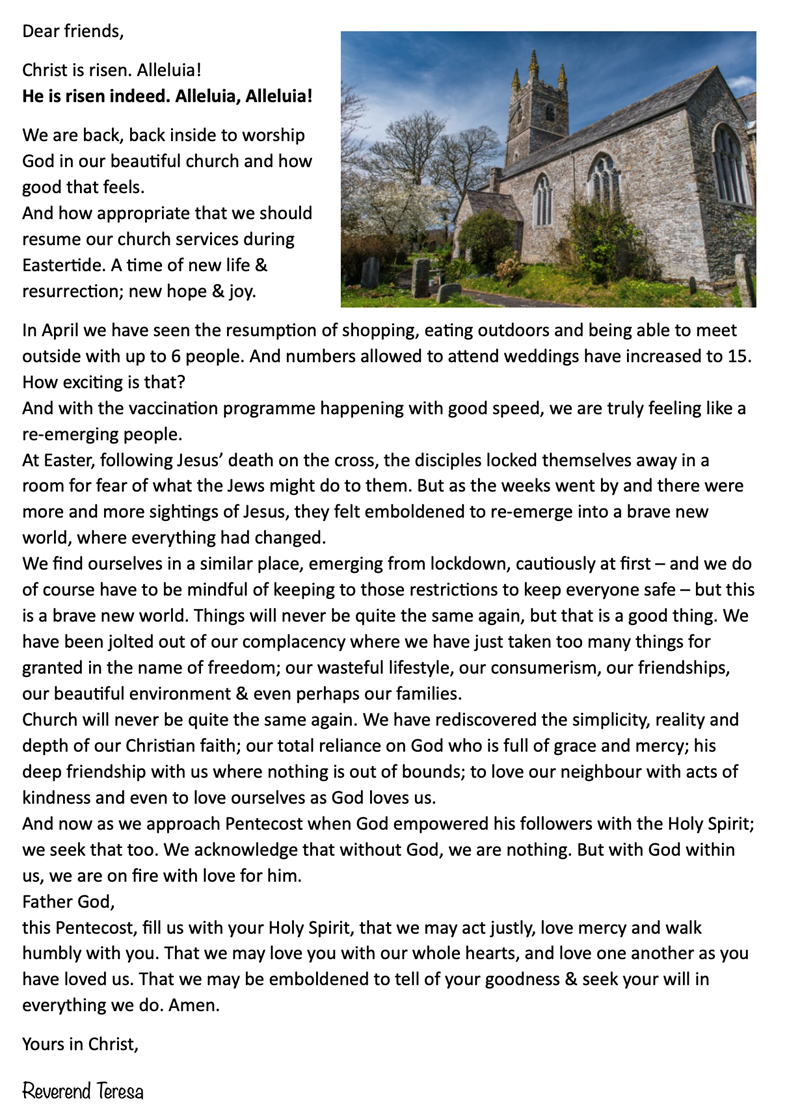 April 2021: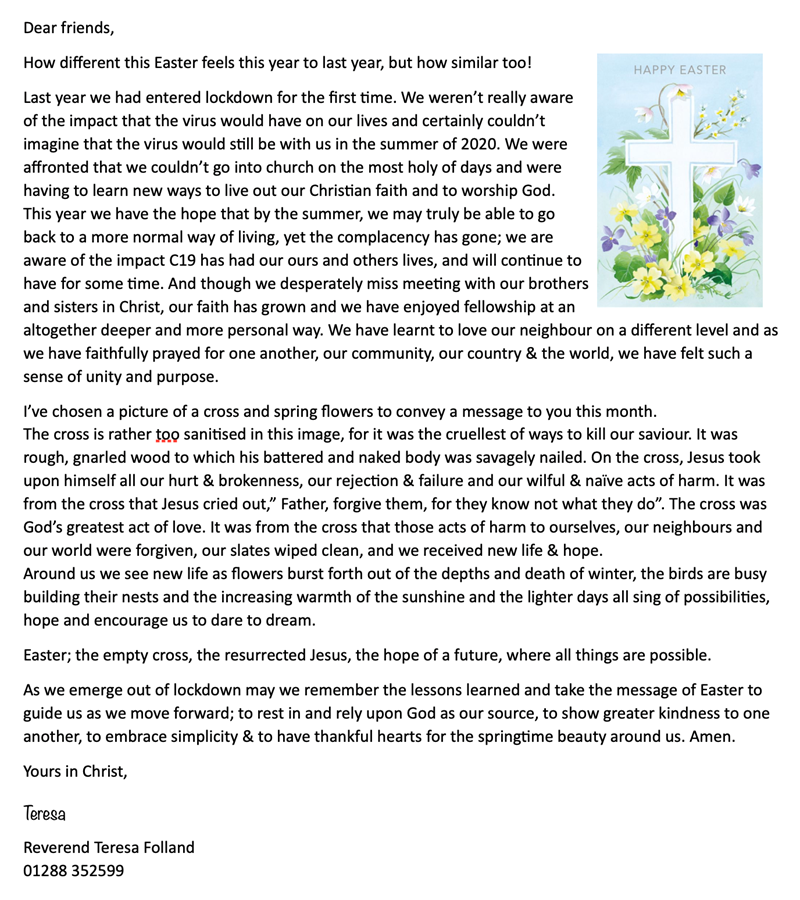 February 2021: