St Swithin's Church
Nine Lessons and Carols Service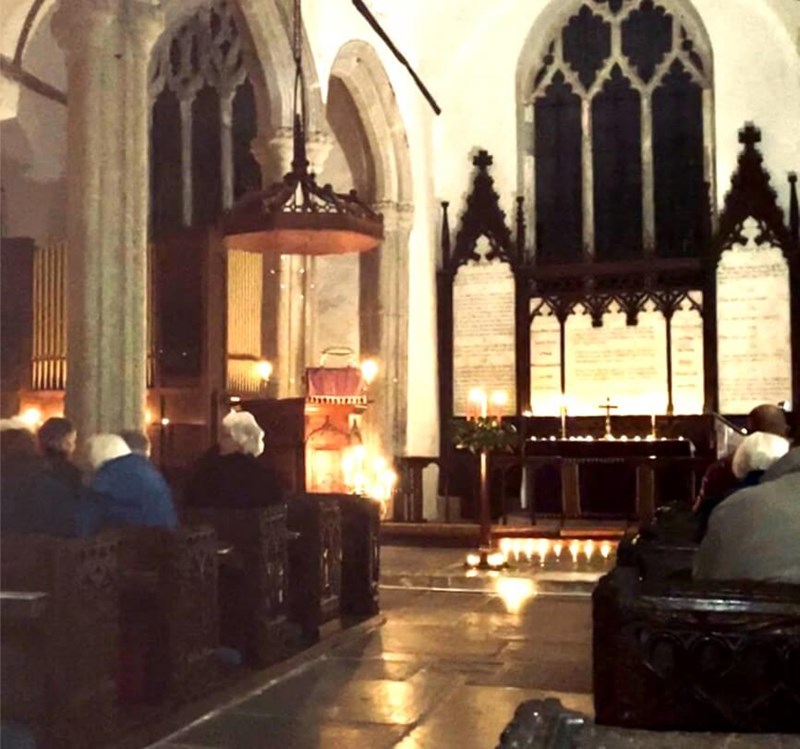 On the evening of Sunday 4th December, we saw the Christmas celebrations at St. Swithin's begin, with a beautiful and meaningful carol service. As one entered the church through the heavy, ancient door, one saw the magical, candlelit setting for our annual 9 lessons and candles service, and we could hear the bells ringing.
About fifty expectant worshippers, came to experience their first Christmas service. The service was led by Reverend Teresa Folland. Prayers started the service. The first hymn was 'Good Christians all, rejoice'. Which was followed by, the readings, which began with 'God promises to faithful Abraham that his seed shall the nations be blessed'. The readers were: Rev'd Ben Lillie, Helen Barnes, Margaret Cleave, Clare Monro, Gill Cole, Chris Brewerton, Suzanne Littlejohns, Sandy Cheshire and Rev'd Teresa Folland. The service finished with singing 'Hark the Herald angels sing'.
The retiring collection was given to St. Petroc's Society who work to end homelessness in Cornwall. After the service we enjoyed mulled wine, mulled cider and mince pies.
Thanks are due to Reverend Teresa, our churchwardens, Jan and Maggie for organising this memorable Christmas Carol service.
Margaret Bond
The Ringers of Launcells Tower
The painting below was inspired by the poem 'The Ringers of Launcells Tower' by Reverend Hawker of Morwenstow. The bell ringers who had rung the bells at the accession of George III in 1760, were still alive and able to ring the bells on his Golden Jubilee in 1810. As the painting was done 77 years after George III's Golden Jubilee, it is a total reconstruction. Nevertheless, Frederick Smallfield (b.1829 - d.1915), who exhibited regularly at The Royal Academy, had visited the church tower before he started painting and had studied the bell ringers at his local church in Willesden, London, to get the figures' movements correct.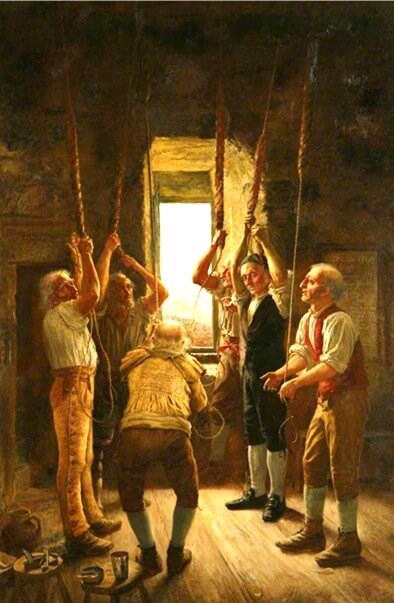 They meet once more! That ancient band –
With furrowed cheek and failing hand, –
One peal today they fain must ring
The Jubilee of England's King!
*************
They meet once more – but changed are now
The sinewy arm and laughing brow:
The strength that hail'd in former times
King George the third with lusty chimes!
*************
Yet proudly gaze on that lone tower!
No goodlier sight hath hall or bower, –
Meekly they strive – and closing day
Gilds with soft light their locks of gray!
*************
Hark! Proudly hark! With that true tone
They welcomed Him to Land and Throne,
So ere they die they fain would ring
The Jubilee of England's King!
*************
Hearts of old Cornwall! Fare ye well,
Fast fade such scenes from field and dell,
How wilt thou lack, my own dear land,
Those trusty arms, that faithful band!
On 11th September 2022 a team once again rung the bells at St Swithin's Church for an accession to the throne…for King Charles 111.
Those who rung were: Liz Gliddon, Chris Humphreys, Nigel Cann, Esther Jones, Helen Barnes (Tower Captain). The two visiting ringers, who we were delighted to welcome, were Michael Clements and Peter Godden.
I have submitted this article in the hope that in future a list of ringers will be recorded each time a team rings for such a memorable occasion. And no pressure on the group above…who will be ringing for the accession of our next monarch?
Maggie Cooper
Church Warden, St Swithins, Launcells
"Thank You"
This is to thank all who delivered the December issue of the magazine and also the Christmas cards including Alison Butler, Tina Elderfield, Marlene Bath, and Nigel Hunt plus my friends Frank and Megan Daglish who help me to cover the outskirts of the Parish. All very much appreciated.
The enormous job that Mandy and Brian Pollard do throughout the year must not be overlooked.
What would we do without them all?
Lilian Quinn
Services Over Christmas
Sunday 4th December - 9 Lessons and Carols.
Tuesday 20th December 4.00pm - Crib Service
Sunday 25th December 11.15am - Holy Communion with Rev'd Teresa Folland
St. Swithin's celebrated Harvest with a Harvest Lunch
St. Swithin's church, Launcells decided to hold a Harvest lunch instead of an evening Harvest supper this year, and what a good move that was! The Harvest festival service was held at 11.15am. There was a good display of food and produce in the church, which was later taken to the Bude food bank.
The lunch, held in the Parish Hall, was a most enjoyable event. The food was produced by members of the congregation. The choice was between wonderful veggie and meat Lasagnas, some delicious cottage pies, trifle, fruit crumbles, cheese and biscuits.
Thank you to all who brought their food. Thanks to those who worked hard in the kitchen, making sure everything was served hot and on time. Thanks to those who prepared the food, without whom this could not have been possible.
Donations were for the Bude Food Bank. The amount raised was around £500. Thank you everyone.
Margaret Bond
St Swithin's Quiz
It was with regret we had to cancel the Quiz scheduled for Friday 18th November.
St. Swithin's, Church remembers the fallen, at their Remembrance Service
On Sunday 13th November, the congregation of St. Swithin's Church gathered before the usual Sunday service to remember the soldiers who had been killed in wars. The events in Whitehall at the Cenotaph were heard and as Big Ben rang 11 O'clock and a gun salute, a two-minute silence was held. Mrs. Jan Hunt led the service with prayers.
Lt Col. Richard Grevatte-Ball read the names of the men of the parish who had fallen in the first world war. They are John Coles, Eli M. Gardener, Arthur Gilbert, John H. Gilbert, William Gerry, John O. Jewell, Samuel Leach, John C. Lyle, and William Venner. He then laid a wreath from the church. Mrs. Margaret Bond laid a wreath from the County Council. The service concluded with singing the National Anthem.
Margaret Bond
Annual Craft Fayre at Saint Swithin's, Launcells.
The Annual Craft Fayre was scheduled to take place in September as usual, but the death of Queen Elizabeth meant that the date was changed. So, it was held between 18th and 22nd October.
The church was transformed from a place of worship to a marketplace. Carefully placed boards were placed over the top of the pews. There was a total of 36 stalls. One of the stall holders had been coming for twenty years, others were selling at the Craft Fayre for the first time.
The stalls were full of homemade jewellery, jams, pies, tarts. Along with toys, cards, pottery, woodwork, and paintings. The Ark Angel Bookshop had a table, and there were other stalls with Christmas decorations, cards and toys. This year there was an increase not only in the quantity of goods but also in the quality!
Teas, coffee, cake, cream teas; along with delicious lunches, were served from the kitchen. The week was very successful, due in most part to all the hard work that was put into making this Craft Fayre one that people will remember.
Those who must have a mention are; Jan Hunt who was cashier and banker. The kitchen staff included, Rose Harwood, Caroline Tape, and Beryl Kendrick. The Bric a Brac corner was manned by Lilian Quinn, Mary McBrinn, and Megan Dalglish. The setting up and the taking down was done by Brian Pollard, Nathan Pollard, Matt Stokes and helpers. Without these good people the Craft Fayre would not have been sosuccessful. Thank you all so much for giving up your time and effort for this cause.
Margaret Bond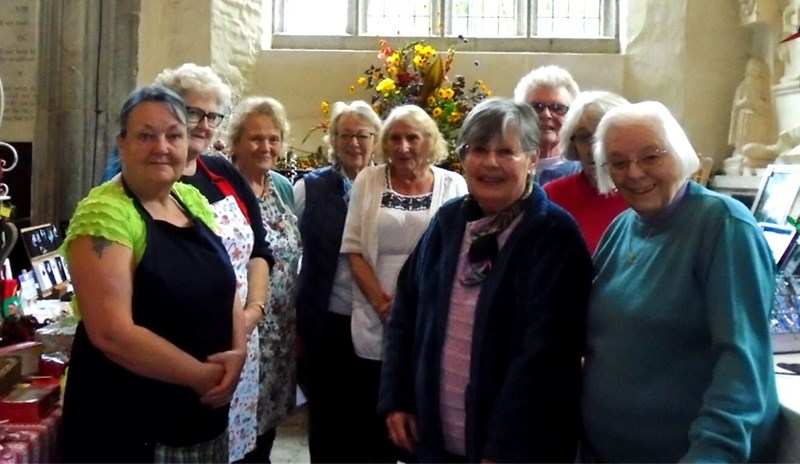 From left to right: Rose Harwood, Caroline Tape, Maggie Cooper, Jan Hunt, Beryl Kendrick, Barbara Atkins, Margaret Bond, Megan Dalglish, Lilian Quinn.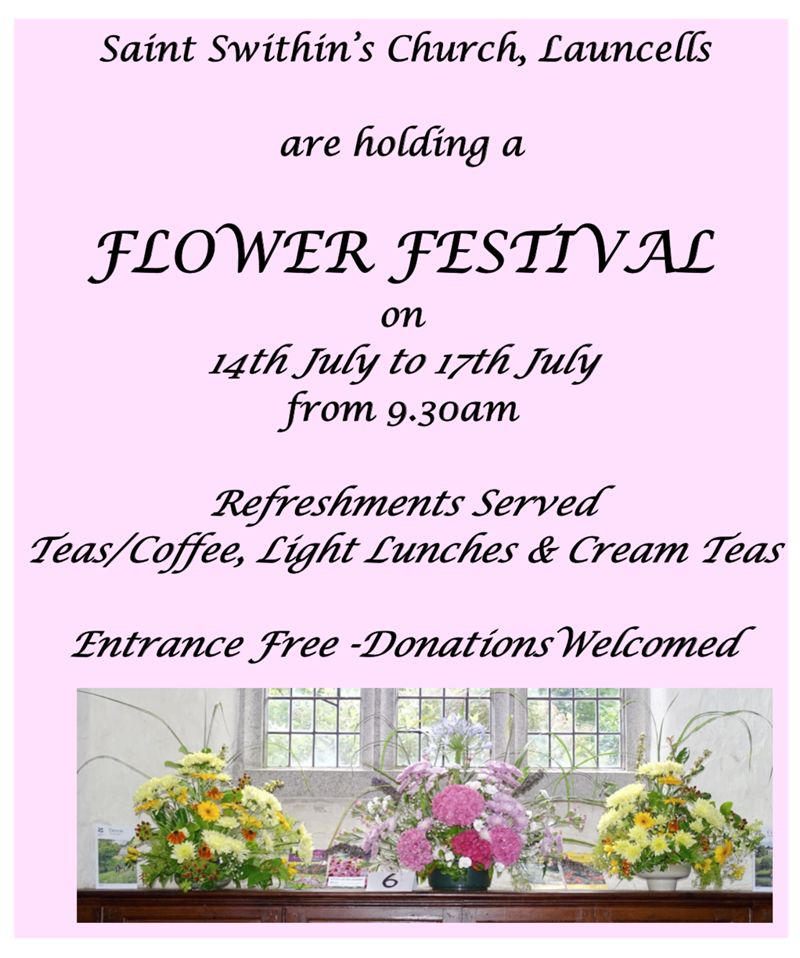 July 2022: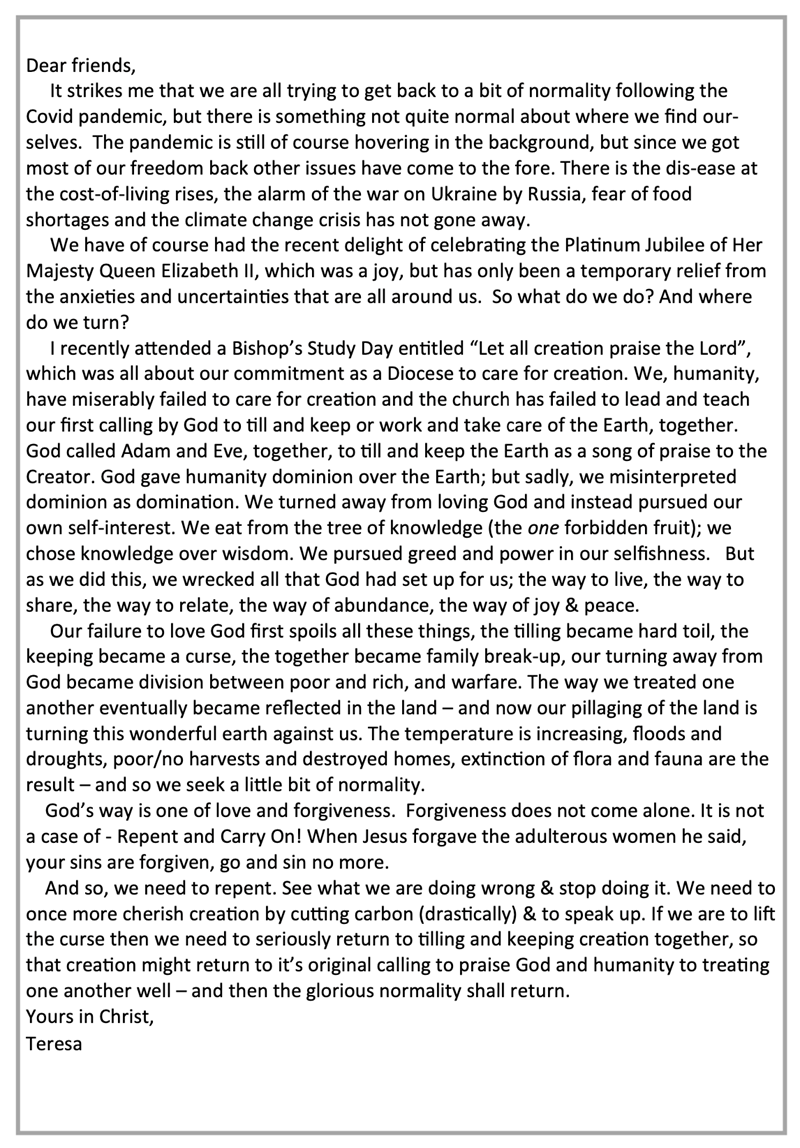 March 2022: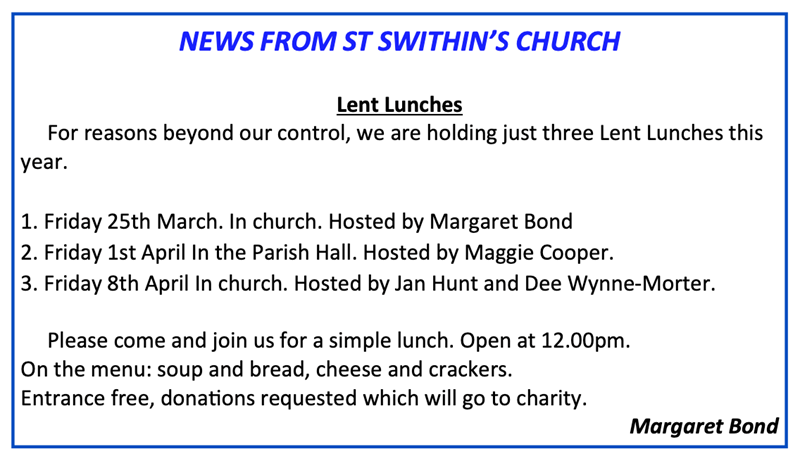 January 2022: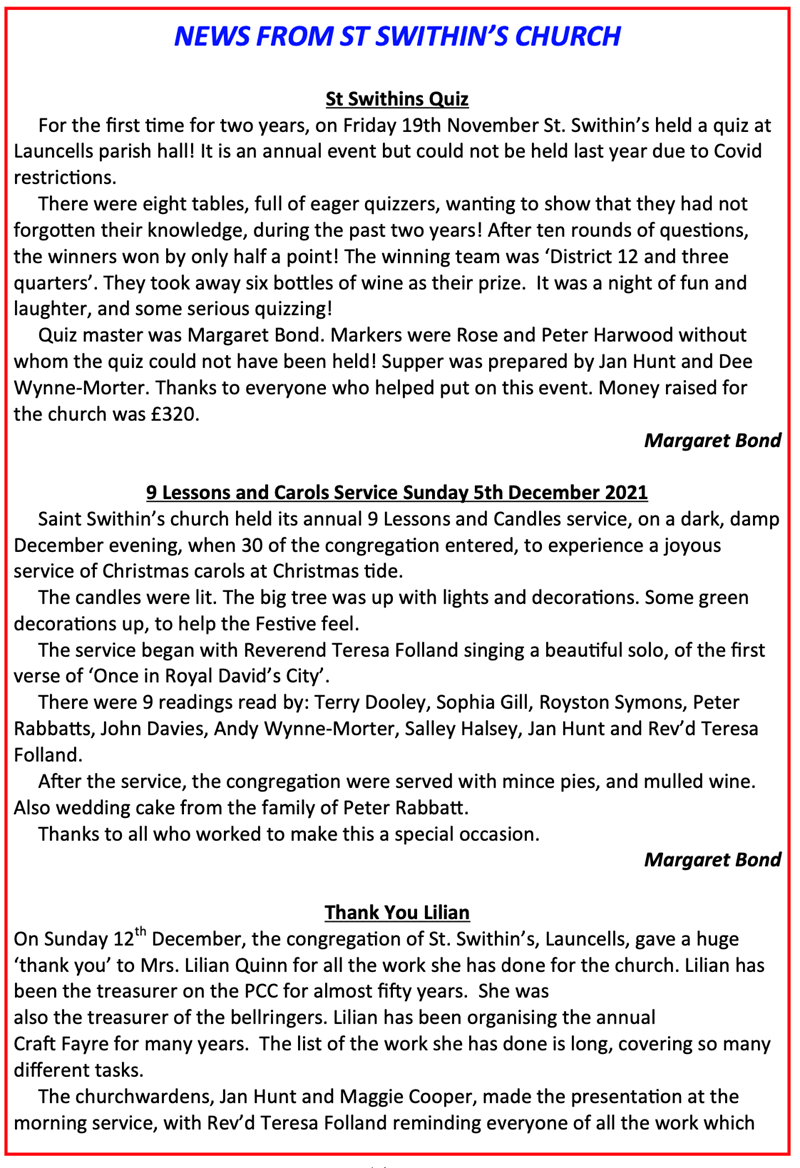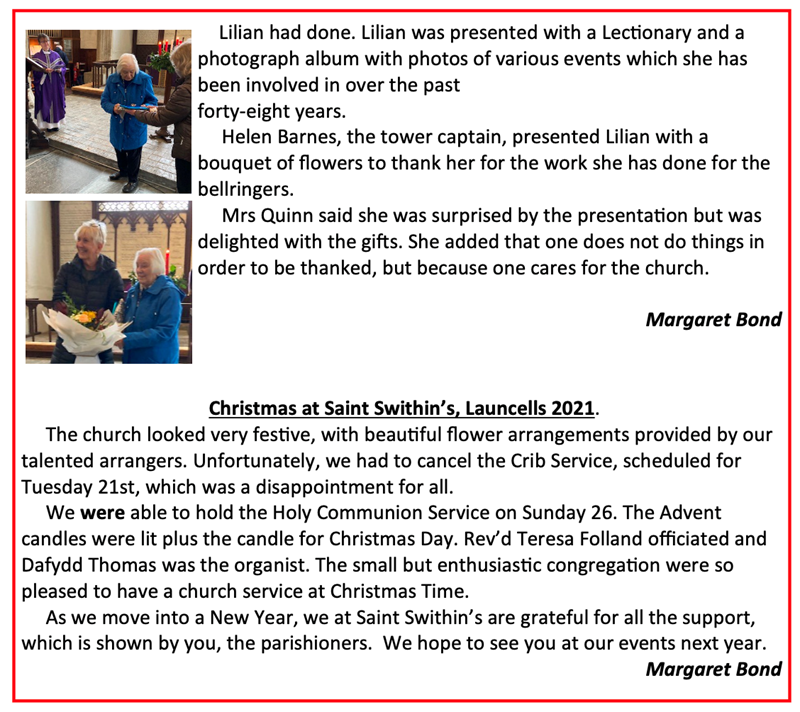 December 2021:
Dear friends,
Golly, it's the 'C' word!
Christmas is coming, very soon to a place near you!
Christmas just has to be one of the very best times in the year. So much celebration; friends & family, food & festivities, and we want it to be so much better than the limited & muted merriments of 2020.
The excitement & anticipation, preparation & plans are all part of it, and at St Swithin's we will be doing just that throughout December as we move through Advent.
We have already planned our services to celebrate the birth of Jesus. We have the four Sundays before Christmas when the Advent Wreath will be lit; on the 5th December we have the 9 Lessons and Carols service at 7pm, with festive refreshments afterwards, then on Tuesday 21st December, we have the much-loved Crib service at 4pm. We will be hosting the Holy Communion service for the Benefice on Boxing Day, when we invite you to come and meet with the new born baby Jesus in the stable.
Preparations will be made as the church is decorated, the Christmas tree arrives and the Advent Wreath is prepared. And the church remains open for you to come in and spend a while in God's presence as the busy world continues around you. It's all part of the Light of the world dispelling the darkness all around us.
The Sunday services will help us anticipate as we consider the patriarchs of our faith (Abraham, Moses & the like), then the prophets (Isaiah et al who foresaw & proclaimed the coming of the Messiah), on the third week we are getting closer to the birth of Christ and think about John the Baptist who was born six months before Jesus and came with the specific message to get ready, because the coming King was very near and finally we remember the angel Gabriel's visit to the Virgin Mary, telling her she was going to give birth to the Christ-child.
Finally we have the excitement of the birth of Jesus on Christmas day; God with us, Immanuel! And what an amazing thing to have happened. God, himself, in the form of his Son, dwelling amongst us, totally accessible, totally with us, totally understanding what it is to be human, totally loving us, totally meeting us where we are, totally meeting all our needs, totally answering all our prayers; God with us.
I don't know about you, but I can't wait!
Wishing you the blessing of peace, joy, hope & love
this Advent and Christmas season.
Reverend Teresa
: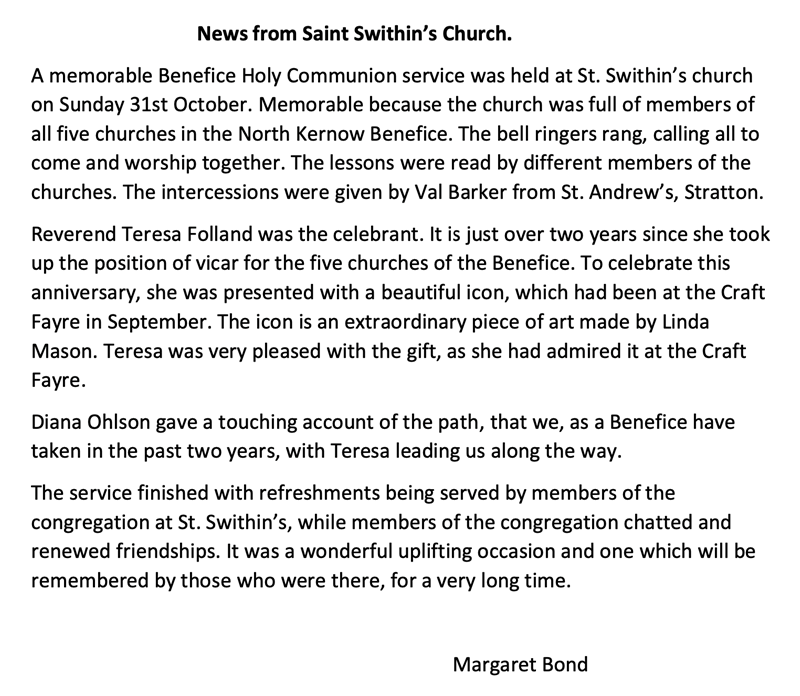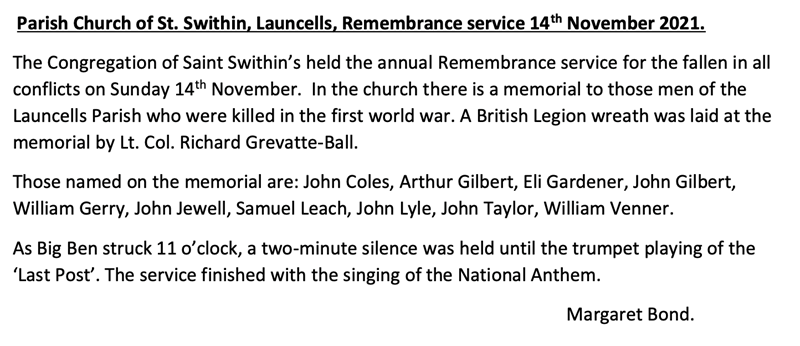 November 2021: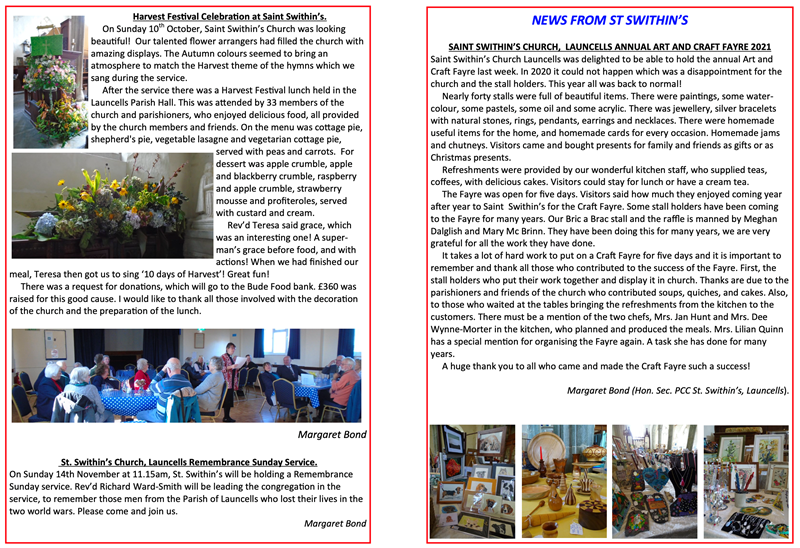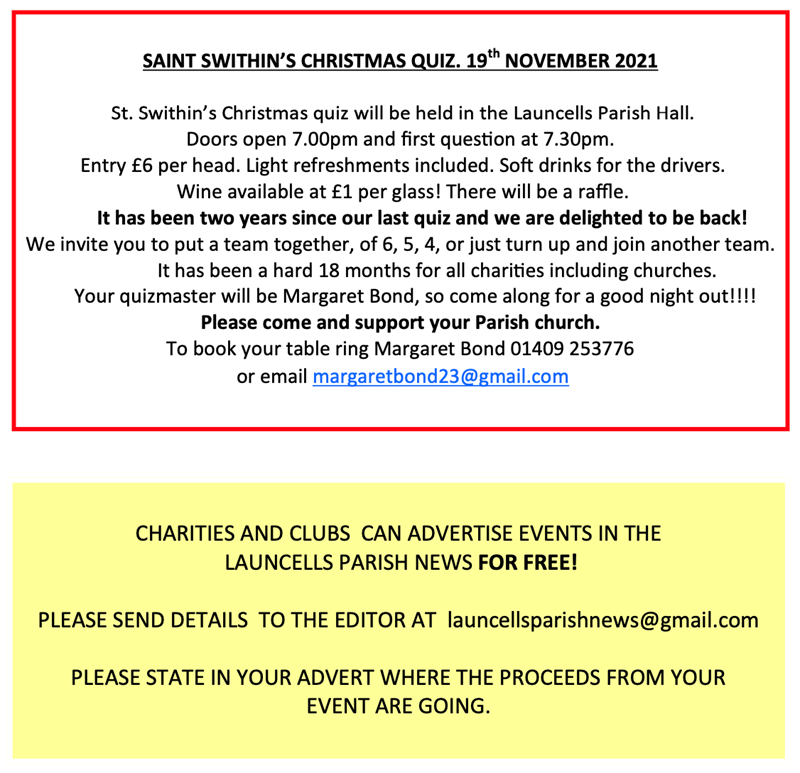 September 2021: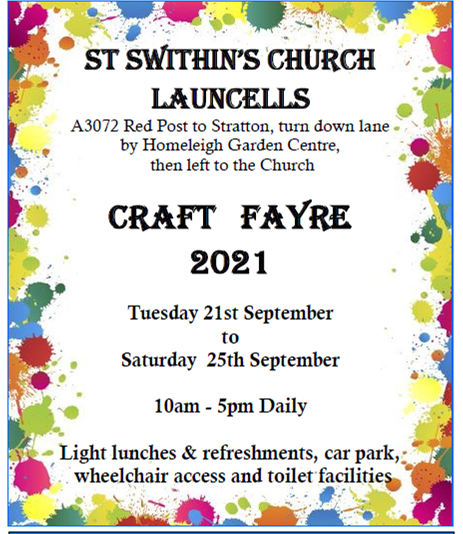 August 2021: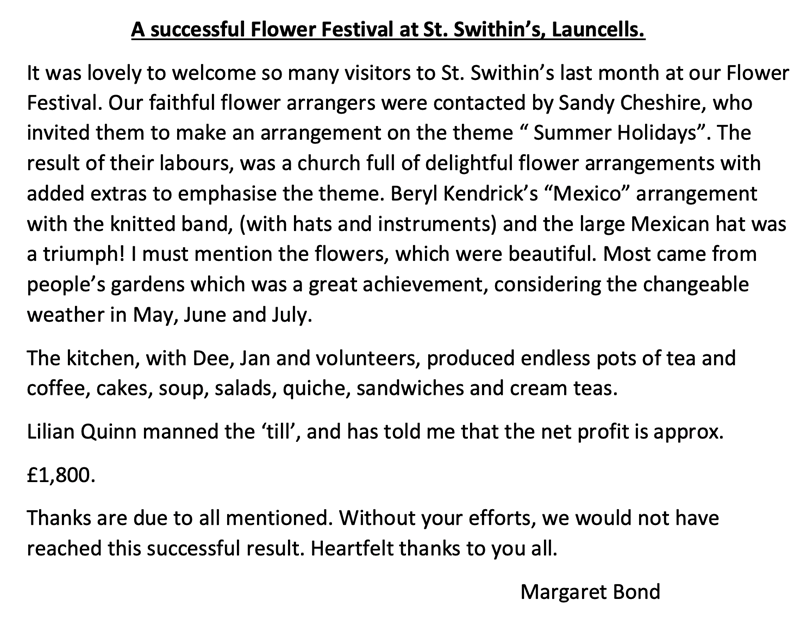 July 2021:
News from St. Swithin's, Launcells.
Stop Press! Stop Press! Stop Press! Stop Press! Stop Press! Stop Press!
Due to the latest news from the government, we have had to postpone the events planned for the Flower Festival and the Celebration weekend.
We are going to hold the Flower Festival from Thursday 22nd July to Sunday 25th July.
This will include our Celebration weekend on Saturday 24th and 25th July.
We are going to hold the same events that were organised originally. This will include free afternoon tea being served to you on Sat. 24th and Sun. 25th July.
Cut out this ticket and bring with you and you will have a free afternoon tea! (you will need the ticket from a printed copy of the magazine)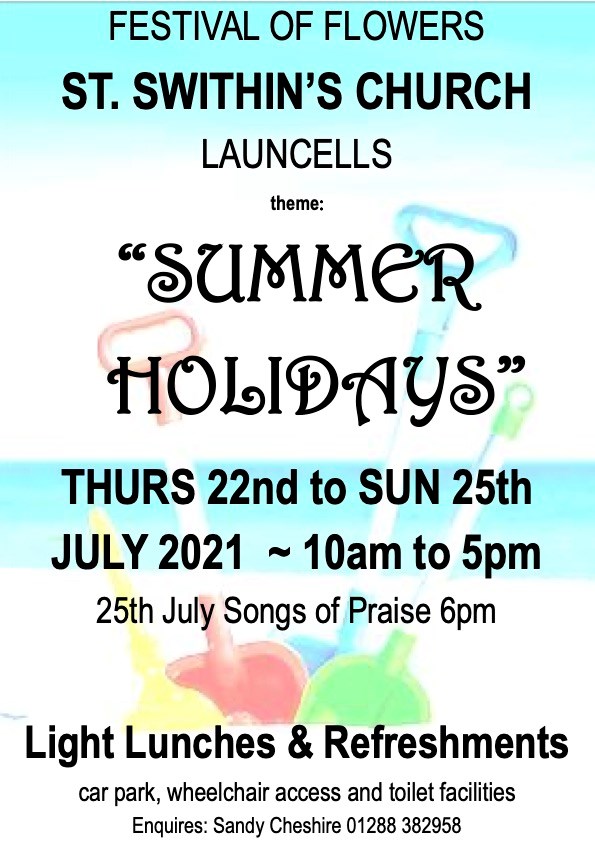 June 2021: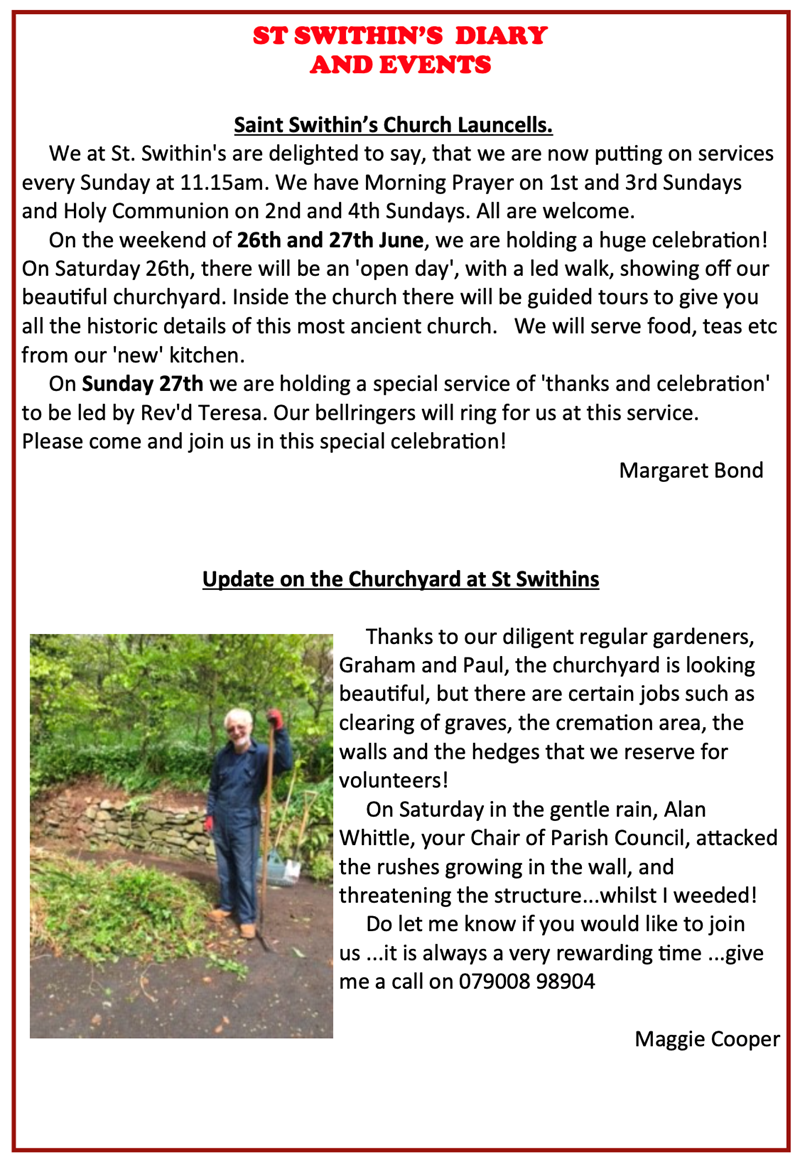 May 2021:
News from Saint Swithin's, Launcells.
Advance Notice of a Celebration Open Weekend at Saint Swithin's Church. This will be an event to celebrate the reopening of our church.
We will welcome all to come to YOUR church on Saturday 26th June with graveyard tours and history tours inside the church. Sandwiches, tea, coffee, and cakes, will be served. This followed on Sunday 27th June with a celebration Service led by our vicar Rev'd Teresa Folland. More info. to follow.
Margaret Bond
St Swithin's Churchyard
….Is looking more beautiful than ever in its Spring colours!
Do come down to see it…the Cherry blossom is still out, and I spotted 14 different wild flowers
The other day, while walking along the paths.
Please let me know if you see more!
-----
On 8th May at 10am, I am holding a working party (distanced of course), with no chatting unless 2metres apart.
All are welcome!
I will be there for 2 hrs - but do just call in for a chat or work for an hour or two whatever you wish, we will be very happy to see you!
The main jobs are clearing the tombstones and graves and weeding the left hand cremation areas.
Please bring your own tools, kneeler, bucket etc
Maggie Cooper
079008 98904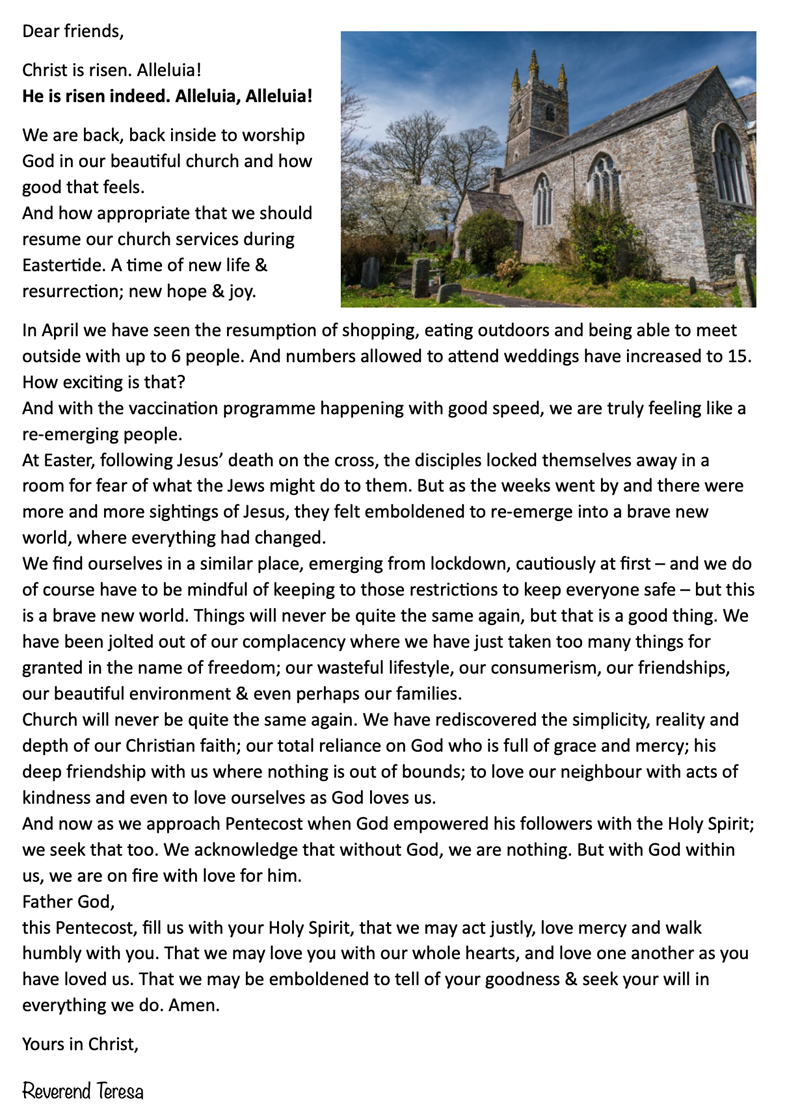 April 2021: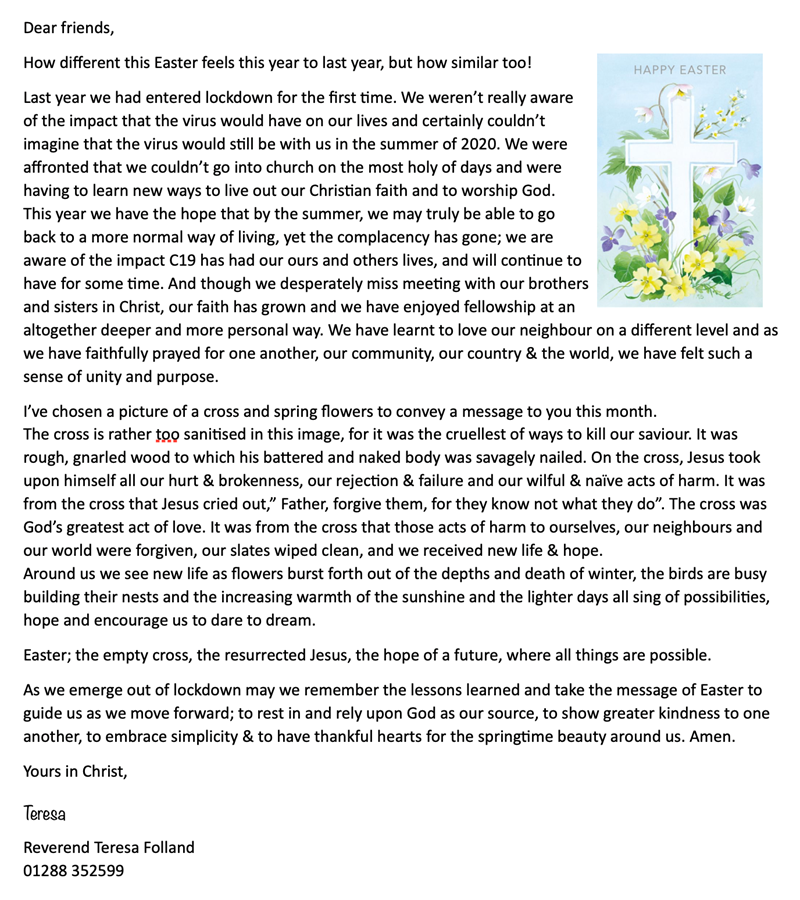 February 2021: