Welcome to the Launcells Parish Council Website
Launcells has been an interactive parish since 2013, offering online access to its residents and beyond.
We have just upgraded our website to comply with the new website regulations for 2020.
Please browse and let us know what you think and please tell us if there is anything that you feel the website could add to benefit users.
Thank you
Launcells Parish Council
Free evening parking in our car parks
Did you know that there's free parking in the majority of Cornwall Council's car parks from 4pm-9am every day until March 31, 2024?

You can find all the information on the car parks which are participating using the yellow link below.

Tell us what you think about discounted parking tickets and an overnight motorhome parking trial.

We want your views on proposals to make parking more affordable for those who need to regularly park in a Council car park.
A consultation has been launched on plans which will cut the cost of seasonal parking tickets by 50% for Cornwall residents.
Available for drivers who live in Cornwall for at least six months of the year, the Resident Season Ticket can be bought to cover a six, seven or 12 month time period. Tickets are valid for use in one specified car park and beneficial for people who regularly need to park during the week.

We're also looking to trial overnight motorhome parking at The Crescent car park in Bude. Read more.
Stay warm and well this winter
Now's the time to grab this year's edition of our Winter Wellbeing Guide.

Inside you'll find advice for preparing for cold and damp weather, as well as how to stay warm, well, safe and happy over the winter.

There's also information on where you can get extra support or find a warm and friendly place to meet others.

Hundreds of organisations all across Cornwall are ready to help. Their advice and contact information is available in the guide, which is available to read online, or as a printed copy in venues across Cornwall, including in your local library, pharmacy, GP surgery or Community Hub.
The Library Service are introducing PIN numbers to all library memberships from December 4.

You'll need a PIN to reserve books, use our public network computers or access our online app PressReader.

On December 4, the Library Service will set all library card PIN numbers to the last four digits of the account number on your library card.
After this date, please log into your account on the Library Catalogue to reset your PIN to something more memorable to you.
If you need help, please come into one of our libraries and ask a member of staff to give you a hand.
Protect yourself from the pain of shingles
Have you turned 70 but not yet 80 years of age?

A shingles vaccine is available on the NHS for people:
• who turned 65 on or after 1 September 2023
• aged 70 to 79
• aged 50 and over with a severely weakened immune system

As you get older shingles can be very painful and really affect your quality of life. Protect yourself from the pain of shingles – speak to your GP surgery about having your vaccine today!
Ready, Steady... Grow - bookings open!
Healthy Cornwall now have dates available to book onto their new, FREE Ready, Steady…Grow prenatal and postnatal health and wellbeing programme.
The sessions focus on the health and wellbeing of both baby and you, discussing a variety of health topics such as healthy nutrition and getting active, in a relaxed, informal and comfortable environment.
Sessions are now available to book in a variety of locations throughout Cornwall and online. Head to the Healthy Cornwall website now to book.
We're giving away more free tree saplings.

Our Forest for Cornwall team will be at the following locations if you'd like to collect a sapling to plant in your garden.

The giveaway is part of the Forest of Cornwall Back Garden Forest project, and the trees are supplied by the Woodland Trust's Emergency Tree Fund.

Nov 18 - Basset Centre, Camborne, 9.30am-12.30pm
Nov 26 - Torpoint Library, 10am-12pm
Dec 9 - Darite Village Hall, 10am-1pm
Dec 15 - Bude Visitor Centre car park, 1pm-3.30pm
Jan 9 - Fore Street, Saltash, 10am-12pm
Parish Council Meeting 04/12/23
Notice is given that Launcells Parish Council will be holding a parish council meeting in Launcells Parish Hall on Monday 4th December 2023 at 7.30pm.
If you would like to share your views on an agenda item, but are unable / uncomfortable attending, please email your comments to launcellspc@gmail.com no later than midday on Friday 1st December.
Help with the cost of living
If you, or someone you know, are one of the estimated 13 million UK adults who are struggling to pay their bills at the moment, there is help available.

The Government has more than 40 different schemes to support people with the rising cost of living, depending on where in the UK you live.
Households on certain benefits can get Cost of Living Payments of up to £900
Pensioner households eligible for the Winter Fuel Payment may also be entitled to a £300 top-up
People on a low income, out of work or unable to work, could be eligible for Universal Credit to help with living costs
People over the state pension age could get extra money through Pension Credit, even if they have savings or their own home
Keep an eye out for flyposting
There is no formal definition of flyposting, but it is generally taken to mean the display of advertising material on buildings and street furniture without the consent of the owner.

Unauthorised flyposting on both public and private property is a criminal offence. It can result in fines being given out by the Magistrates Court, or a fixed penalty notice up to £80 being issued by Cornwall Council or the Police.

Please advise local residents of this if you are approached for advice. Also, if you are aware of examples of flyposting and can identify the perpetrator, you can report this to Cornwall Council for investigation using these links:
We are aware of lots of people coming down with coughs and colds and feeling generally unwell. Help stop the spread of germs by taking simple steps to protect yourself and others:
Use tissues to trap germs
Wash your hands often with warm water and soap
Put used tissues in the bin as quickly as possible.
Catch it. Bin it. Kill it.
If you don't feel well enough to go to work or carry out your normal activities, please try to stay at home and avoid contact with other people. For more information visit People with symptoms of a respiratory infection including COVID-19 - GOV.UK (www.gov.uk)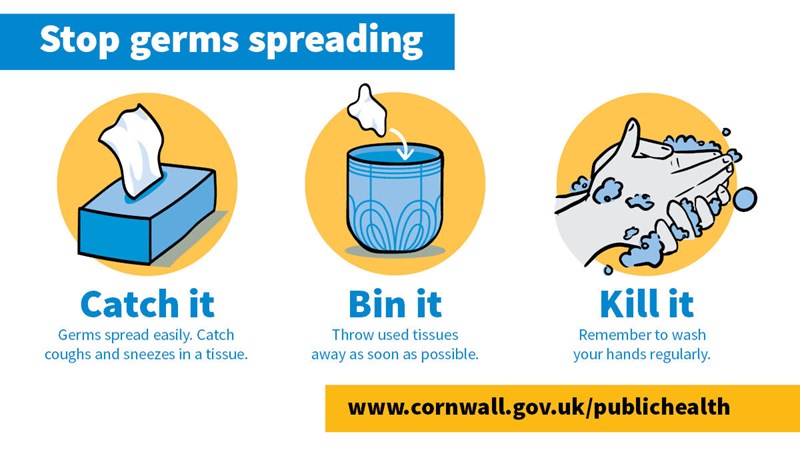 Community Emergency Plan
The community emergency plan document can be found here
It was created in 2018 and distributed to all parish households - some details have changed but the general information is still relevant.
November 2020 -
Covid - 19 Directory amended pdf here
---
Launcells Parish Defibrillators
The first defibrillator is located at Launcells Parish Hall in Grimscott - EX23 9LS
The second is It is located at the Red Post Inn, by the post box - EX23 9NW.
As before, should you need access to this "self-guiding" piece of equipment, just phone 999 and follow the instructions on the cabinet. You will then be given the access code to open it. The machine then tells you how to use it.
We would hope to arrange another set of training for the use of a defibrillator, once we return to normal, but in the meanwhile, attached is the note that was in the Parish Magazine a while back.