Launcells Horticultural Show 2023
Added at 12:15 on 03 September 2023
The Launcells Horticultural Show took place on Saturday 12th August and despite the very hot and dry spring followed by a very wet and windy summer, the growers and makers of the Parish yet again produced a lovely display.
There was an excellent selection of vegetables and a lovely display of cakes and biscuits together with flowers, preserves, crafts and photographs.
Well done to Alison Butler who won a Best Exhibit prize for her beautifully made cushion and to Louise Symons who won best exhibit in the under 10 age section.
Many thanks to the five Parish Councillors who each made 4 biscuits. The winner was Paul Wingard.
Many thanks to all those who took part, the organisers, the volunteers who helped set up and clear away, the judges, the helpers in the kitchen, to Andrew Hargreaves for presenting the prizes and to everyone who came along for a very sociable afternoon.
Let's hope the weather is kinder to us next year and that perhaps a few more people can enter the 2024 show, especially all the children in the Parish.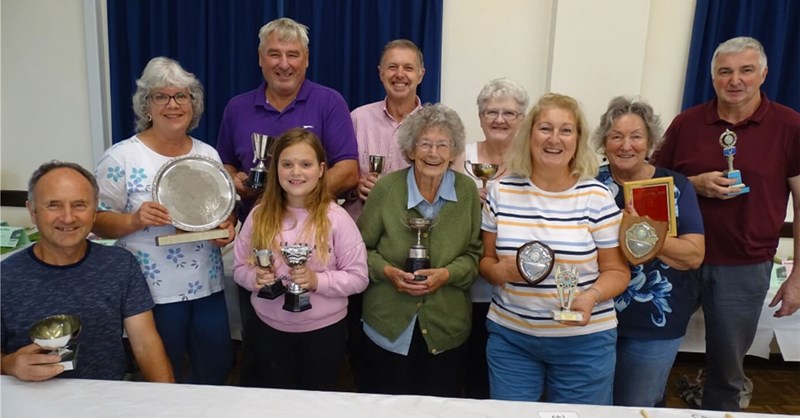 Back row from left to right:- Mandy Pollard, Graham Tape, Derek Cole, Caroline Tape, Sue Urwin, David Long
Front row from left to right:- Brian Pollard, Ella-Rae Bath, Freda Hockin, Alison Butler
Section 1 Vegetables

The Cleave Challenge Cup

Winner

Graham Tape

The Snowden Perpetual Trophy

Runner-up

Derek Cole

Stedwill Memorial Cup

Classes 28 to 34

Graham Tape

The Sainsbury Cup

Class 1

Graham Tape

Section 2
Flowers

The Hunt Perpetual Cup

Winner

Graham Tape

The Yelland Perpetual Trophy

Runner-up

David Long

Mrs Cleave Cup

Class 36

Graham Tape

Pot Plants

Launcells Horticultural Show Cup

Winner

Graham Tape

The Dinner Trophy

Runner-up

Mandy Pollard

Section 3 Floral Art

The Brooks Challenge Cup

Winner

Caroline Tape

The Sainsbury Trophy

Runner-up

Sue Urwin

Section 4 Cookery & Salads

The Barkwill Challenge Cup

Winner

Mandy Pollard

The Stedwill Perpetual Trophy

Runners-up

Alison Butler

The Pickard Cup

Classes 87 to 92

Mandy Pollard

Section 5 Preserves

The Tape Perpetual Salver

Winner

Mandy Pollard

The Higher Grimscott Preserve Plate

Runner-up

Caroline Tape

The Havasu Trophy

Classes 114 to 120

Mandy Pollard

Section 6 Handicrafts

The Venner Challenge Cup

Winner

Freda Hockin

The Dingle Perpetual Trophy

Runner-up

Alison Butler and Mandy Pollard

Les Yelland Trophy

Best Exhibit

Alison Butler

Section 7 Photography

Launcells Horticultural Show Bowl

Winner

Mandy Pollard

Launcells Horticultural Show Trophy

Runner-up

Brian Pollard

Section 8 Children under 10 years

The Jenkins Cup

Winner

Ella-Rae Bath

Stedwill Plaque

Runner-up

Dylan Bath and Louise Symons

The Cann Trophy

Best Exhibit

Louise Symons

The Alf Snowden Trophy

Classes 153 to 157

Dylan Bath

The Ron Pearce Cup

Most Points 160 -166 Ella-Rae Bath

Section 9 Children 10 to 16 years

NOT PRESENTED AS THERE WERE NO ENTRIES IN THIS AGE GROUP