Pigsdon Quarry Extension Consultation Event
Added at 16:15 on 30 October 2023
The Launcells Parish Council Chairman and 3 councillors attended a site visit at Pigsdon Quarry which was both useful and informative with senior figures from Glendinnings attending and answering questions, Parishioners are strongly recommended to look in on the display and consultation day at the Parish Hall in November (see below).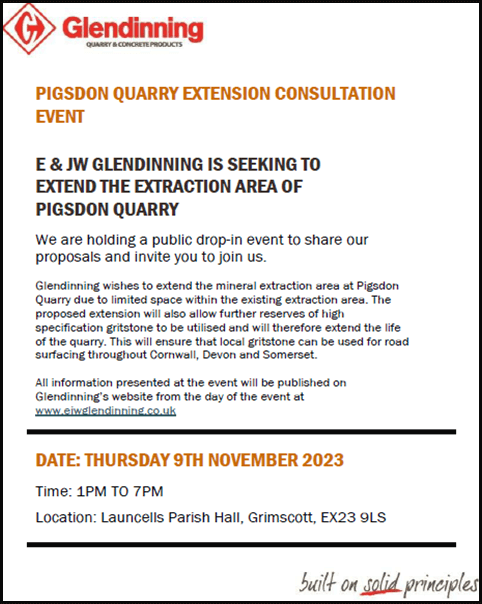 Glendinning Quarry and Concrete Products, built on solid principles
Pigsdon Quarry Extension Consultation Event
E & JW Glendinning is seeking to extend the extraction area of Pigsdon Quarry.
We are holding a public drop-in event to share our proposals and invite you to join us.
Glendinning wishes to extend the mineral extraction area at Pigsdon Quarry due to limited space within the existing extraction area. The proposed extension will also allow further reserves of high specification gritstone to be utilised and will therefore extend the life of the quarry. This will ensure gritstone can be used for throughout Cornwall, Devon and Somerset.
All information presented at the event will published on
Glendinning's website from the day of the event at www.ejwglendinning.co.uk
Date: Thursday 9th November 2023
Time: 1pm to 7pm
Location: Launcells Parish Hall. Grimscott, EX23 9LS.