Theft of our Red Post
Added at 16:47 on 28 May 2021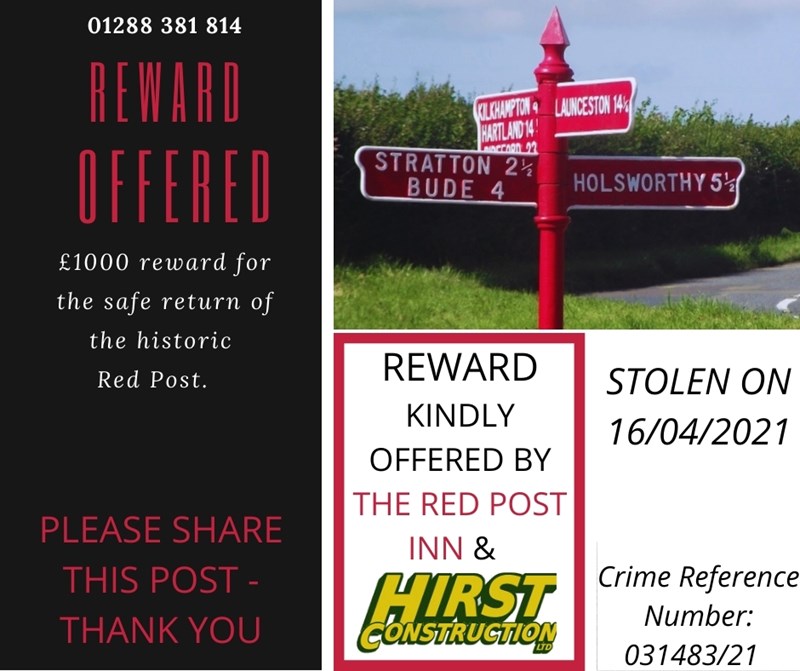 For those of us who are not well connected to the social media world, here is the situation.
You will have noticed that the Red Post sign has gone missing. Sadly, after various checks, the conclusion was drawn that it has been stolen, probably during the night of the 16th April. Interestingly, parts of it were seen on the ground locally the following morning, but it disappeared again before it could be retrieved – this is not an easy thing to pick up and take home. All of this has been reported to the police but it seems unlikely that it will be returned.
Very many thanks should go to Tracy and Paul Horrocks at the Red Post Inn who both publicised the loss though effective use of social media and the local BBC services, and kindly offering a reward for its return - which was kindly added to by Martin Hirst. Thanks also to Helen Shingler who wrote a super piece for Bude and Beyond.
I anticipate that the Parish Council will want to work towards replacing it as soon as is possible, and no doubt it will be high on their agenda at their first meeting after the election. The good news is that the Launcells History club have a template from the last time work was required, and I have already had a supportive note from Highways. The bad news is that it will be expensive and so whatever happens will take time.