Coronation Memory Booklets
Added at 11:10 on 31 May 2023
For King Charles III's Coronation, Launcells History Group have made some booklets for people to record their own experiences of the day. The idea is that we create a memory box for the community to look back on in years to come.
We handed them out at the Coronation community lunch together with some craft bits and pieces so people could decorate the booklets as they wished. There were lots of stickers, stamps, and other embellishments on offer and these were well used. We saw lots of writing and decorating whilst waiting for the lovely food to arrive and some t-shirts were happily decorated as well.
Some people wanted to keep their projects, so we took photos to record these in the memory box. Others have taken theirs home to complete and some were handed back to us on the day.
If anyone would like to complete one of our booklets, please email Suzanne.littlejohns@btinternet.com or message us on Launcells History Group Facebook page. Details of our next meeting will be published in next month's magazine and on our Facebook page.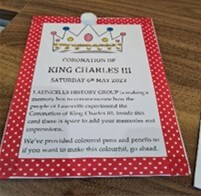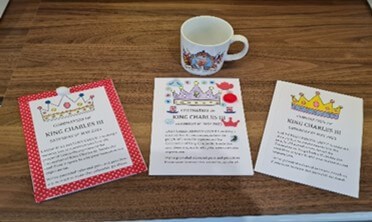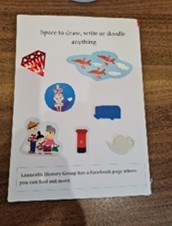 Sharon Jenkins (member) - Launcells History Group