The History of the Red Post
Added at 18:20 on 06 March 2023
Recently posted on the Scarey South West Facebook Page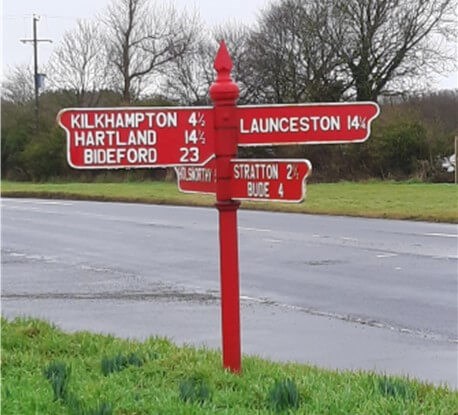 Red Post, near Launcells, Cornwall – unique, iconic, historic, beloved by locals and tourists alike, but sadly also the site of many hangings and as such, possible hauntings. The Red Post signpost, the much admired 4 directional fingerposts, marks the crossroad of the A3072 Holsworthy to Stratton road with the B3254 Launceston to Kilkhampton road. Red Post has appeared on maps since around 1817. During this time the area became a site for a wharf for Bude Canal and a brick and tile kilnwork. The nearby Red Post Service Station and the Red Post Inn and Tourist Park take their name from the iconic Red Post. There has been an Inn on this site since the 9th Century, and the Inn was once a place where smugglers notoriously frequented. This site is also of important geographical significance due to the adjacent bronze age burial barrows, found near Red Post.
One of the reasons signposts such as this were painted red was to mark the site of a gallows, and the Red Post signpost does indeed mark a place where public executions took place over many centuries. To deter other people, many bodies were often gruesomely left to rot at Red Post. During the Middle Ages, crossroads were used as a place to bury people who had committed suicide as suicide was considered a crime. Also, witches, especially old women, were buried at crossroads as the parish would have nothing to do with their burials. The last hanging at Red Post took place in the mid 1800's for sheep stealing.
In Folklore, crossroads have much significance as they are known as a place between the worlds, also known as a 'liminal' place – it is where paranormal activity can occur, where pacts can be made with demons or devils and where other supernatural entities can be contacted.
Is Red Post a spooky place at night? Do the ghosts of those who died and were buried here still remain? You will have to visit and take that 'obligatory selfie' by the Red Post to find out!
Tracey Berridge, Founder of Scarey South West